Activision took Times Square by storm this week, announcing the new Skylanders line for 2013, Skylanders SWAP Force. It's a follow-up to the successful 2012 Skylanders Giants and 2011 Skylanders Spyros Adventure, which redefined game play with real-world action figures that can be brought to life in a video game when you place them on a "Portal of Power." Within the past year and a half Skylanders have rocketed to the top of the list as the #1 action figure toy for 2012 - beating out the previous #1 toy Beyblades, and the action figure line for both Star Wars and Transformers combined.
What began as a singular toy that had its own unique powers and capabilities, the 16 new SWAP Force characters coming this fall will let kids take apart and swap out the tops and bottoms of the figures to create custom characters to play through different challenges in the game. With 16 interchangeable characters, that's 256 unique skill combinations to control your attack capabilities and how you move in the game.

SWAP Force has some improvements for the game as well. If you're a fan you undoubtedly noticed that while Skylanders can do a lot of things, they couldn't ever jump unassisted. That's been fixed in the latest version of the game. In addition, characters will be able to perform new actions like climbing, digging, bouncing and teleporting.
If you've already invested hundreds of dollars into Skylanders action figures, fear not. You'll be able to bring your Skylanders from the original Spyro's Adventure and Skylander's Giants with you into the new world as well. If that wasn't enough, there are 16 new standard figures that will be available for sale, 8 LightCore characters, and then 16 "fan favorite" characters from past series will be re-released. All in all, that's around 100 unique Skylanders characters that will be available fall 2013.
Not to outshadow the SWAP Force announcement, Toys 'R Us held a special event at their Times Square megastore where a lucky 300 kids (and adults) got to get their hands on the latest character, Ninjini, weeks before it's officially released to the public.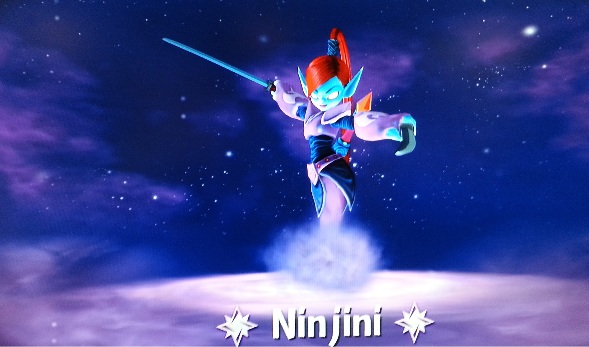 Skylanders SWAP Force will be available starting Fall 2013 and while pricing hasn't been officially announced, it's fairly safe to say that characters will be comparable to today's figures, which start at $10.