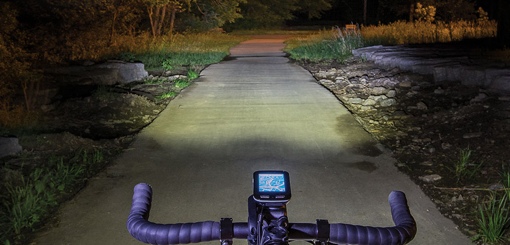 Earlier today, global positioning giant Garmin announced the launch of its new ANT+ enabled Varia line of safety-focused smart cycling devices. Specifically, the company has a new rearview bike radar device and smart bike lights that promise to reduce the likelihood and seriousness of bicycling accidents.
Garmin's Varia Rearview Bike Radar, which the company says is first of its kind, can detect up to 8 vehicles from up to 140 meters (459 feet) away. The device will offer blinking or solid LED alerts if vehicles are detected, and it can be set up to flash more rapidly or more brightly as they approach. It should also be compatible with your Garmin Edge cycling computer, if you have one.

That device is well complimented by the new Garmin Varia Smart Bike Lights. The headlight auto-adjusts its brightness based on your speed and ambient light conditions so you're more able to identify and avoid road obstacles. It puts out about 100 lux at 10 meters and features an automatic high-beam shut-off switch for oncoming vehicles. The Varia Smart Bike Lights also feature a secondary tail light for turn signal functionality. It too can be connected to a Garmin Edge computer.
The Varia line of bike safety accessories are expected to launch sometime in the third quarter of this year pending Federal Communications Commission approval. The Garmin Varia Rearview Radar device is set to retail for $199.99; price and availability for the Varia Smart Bike Lights has yet to be announced.
For more great bicycling safety ideas, check out these best bike accessories for city cyclists. The National Highway Traffic Safety Administration (NHTSA) also maintains a bicycling safety information page that has worthwhile bike safety tips for parents.
[Image credit: Garmin]