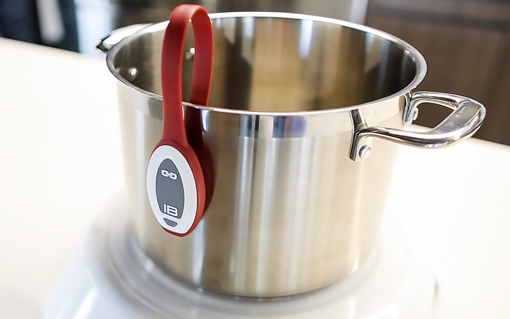 Are you familiar with the concept of sous-vide cooking? It's a means of cooking food, typically meat, by means of an vacuum-sealed plastic bag placed in a temperature-controlled bath. It's a popular cooking method of high-end, gourmet restaurants and professional chefs, as the method leads to evenly cooked, succulent meats and perfectly crisp vegetables.
Typically, sous-vide cooking requires rigging a rice or pressure cooker with a separate temperature controller, or purchasing an expensive thermal immersion circulator. But now appliance giant GE is making sous-vide cooking easy – and afforadable – for those who plan to own one of the company's new Monogram, Profile or GE Café induction cooktops. Today, the company has unveiled the Sous Vide Accessory, a $149 add-on temperature monitor that communicates directly with your kitchen stove via Bluetooth.
The accessory itself functions mainly as a thermometer, constantly monitoring the temperature of the water bath it's immersed in. You mount it on a pot, and choose your desired bath temperature via a GE mobile app. The cooktop will then adjust automatically to maintain that temperature.
"Learning a new cooking method can be intimidating," says GE Appliances' Chris Naber. "GE's sous vide gives aspiring cooks the comfort of knowing it's tied to GE's cooktop, one of the most popular and consistent ranges in the industry. You're not flying solo with a thermometer and a prayer – you've got your cooktop working with you."
The Sous Vide Accessory will be compatible with the new 30" and 36" GE Monogram induction cooktops ($2,599; $3,099), 30" and 36" GE Profile induction cooktops ($1,599; $1,899) and 30" and 36" GE Café induction cooktops ($1,999; $2,299). The appliances are expected to be available in May 2015.
[Image credit: GE Appliances]