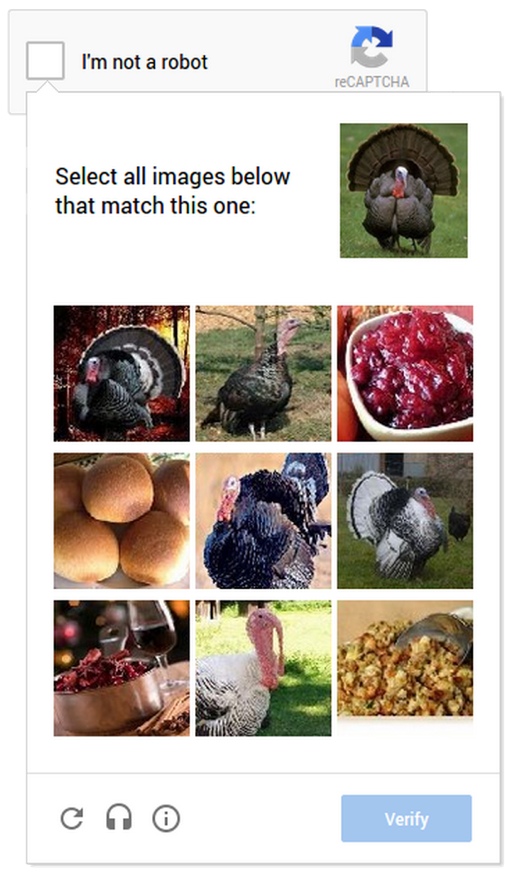 CAPTCHAs, the distorted word challenges issued by websites to get you to prove you're not a spambot, are about to get a major makeover. Yesterday, Google announced on its Online Security Blog that it has developed a technology to eliminate these oft frustrating word entirely. Instead, the Google's new "No CAPTCHA reCAPTCHA" tech pays attention to subtle clues like the motion of your mouse and other secret variables, allowing you to prove your humanity simply by checking a box that says, "I'm not a robot."
"For most users, this dramatically simplifies the experience," explains Vinay Shet, product manager for Google's CAPTCHA team. "They basically get a free pass. You can solve the CAPTCHA without having to solve it."
The new No CAPTCHA reCAPTCHAs rely heavily on Google's automated bot detection algorithms, which the company has been developing over the last few years. Initial tests have pegged its success rate of automatically verifying humans somewhere between 60 and 80 percent, at least for those using desktop computers. If the automated verification attempt fails, you'll be asked to complete a simple follow-up task, like typing a number that appear in a Street View photo.
Unfortunately, the new reCAPTCHAs aren't able to automatically detect smartphone and tablet users. Instead, Google has created an alternate authentication method for mobile devices that uses pictures instead of words. In one sample reCAPTCHA, shown above, you'd be tasked with tapping the five images of turkeys that appear in a three-by-three block of various Thanksgiving-themed pictures. It's an easier task to complete than standard CAPTCHAs for a human, and a harder task to complete for bots.

You can currently find the new No CAPTCHA reCAPTCHA on a small handful of sites, including Snapchat, WordPress and Humble Bundle. As accuracy improves, you can expect to find the new automated reCAPTCHAs all over the web.