Whether it's a plane trip across the country or a doctor's visit, I always make sure there are movies and TV shows downloaded onto my phone mobile entertainment—for me and the kids. With Android devices, though, this hasn't been easy. Google's new Android Market Movies aims to change that.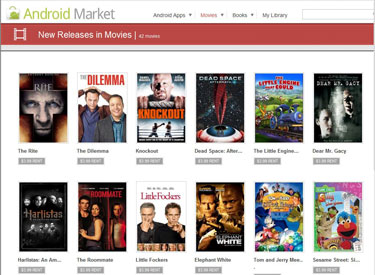 Most services, including those provided by the carriers, only stream video, not downloaded, which means you need a high-speed Internet connection. So watching on the plane is definitely out even if your flight has Wi-Fi. Samsung has its Media Hub service, which does let you download content, but it's only for Samsung devices, like the Galaxy S 4G and the Droid Charge.
In an effort to create one shop for all Android devices, Google has added thousands of downloadable (or streamable) movies to its Android Market. For now, it's only available for the Motorola Xoom
tablet, but support for all Android 2.2 and 2.3 devices is coming in a few weeks, according to Google.
The Android Market Movie service is far from perfect, but it's a good start. First, you can't buy movies, just rent them. Rentals are good for 24 hours from the time you hit play and you must watch the content within 30 days. So if you want to load up on movies for a trip, you'll need to be strategic about when you view them. I'd be much happier buying TV programs for $1.99 an episode or movies for $9.99 and not having to worry about them timing out.
The second issue with Android Market Movies is quality. Movies are only available in standard definition. Cartoons like Scooby Doo looked fine, however, fast action scenes in Harry Potter and the Deathly Hallow's Part 1 had noticeable pixilation.
Movies range from $2.99 for older titles to $3.99 for new releases.