Review of the Samsung Droid Charge (Verizon)
Techlicious editors independently review products. To help support our mission, we may earn affiliate commissions from links contained on this page.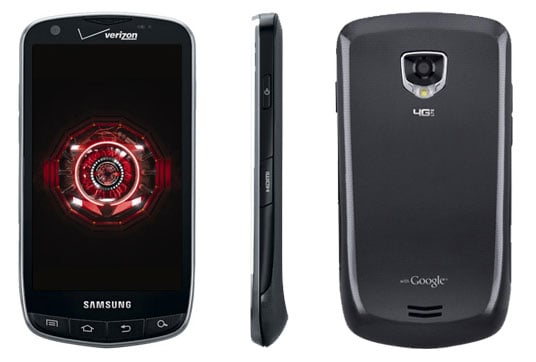 The Samsung Droid Charge is the perfect phone for media junkies. Thanks to Verizon's 4G LTE network, it offers the fastest download speeds of any phone we've reviewed, along with a bright, richly colored 4.3-inch display to view all of that downloaded goodness. The Samsung Charge also has the best camera of any Android phone I've tested, and perhaps of any phone phone, period.
But the Samsung Charge is sometimes too much of a good thing. Its big body can be awkward to hold, it's expensive at $299.99 with a new two-year agreement, and those rich colors can be too saturated, making colors in movies and photos cartoonish.
How it feels in the hand
There's no way around the fact that the Samsung Droid Charge is a very large phone at 5.11" x 2.66" x 0.46". Unless you have the hands of a basketball player, you will likely find yourself juggling the phone around during one-handed use. And, like other Samsung smartphones, the Droid Charge has a smooth plasticky back that doesn't help with grip. I would welcome a textured back, as on the HTC Thunderbolt.
Fortunately, the Droid Charge is not very heavy for its size at only 5.04 ounces—considerably lighter than the Thunderbolt's 6.23 ounces.
Display and Sound
The Droid Charge sports a 4.3-inch "Super AMOLED Pus" 480x800 display that provides rich colors, darker blacks, great viewing angels and plenty of brightness. Compared side by side with the HTC Thunderbolt, there is no comparison—the Samsung Charge is far superior. Though the color saturation on the Samsung Charge goes a little too far, in my opinion, causing colors to appear unnaturally bright, almost cartoonish.
Sound from the built-in speaker was very good (for a smartphone). There was enough volume to watch a movie comfortably and the speaker did not have the tinny quality of most phones.
The Charge also has a mini-HDMI out and DLNA so you can watch your content on your big screen.
Web browsing & mobile hotspot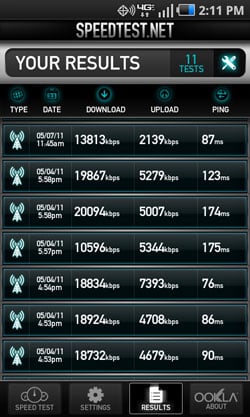 Holy cow. If you ever want to experience true 4G speeds, the Samsung Droid Charge is the phone for you. In New York City, I was regularly getting download speeds of 17 - 20 Mbps, and upload speeds from 5 - 7 Mbps. To put that in perspective, that's 10x faster than my recent test of the Droid Incredible 2 on Verizon's 3G network and 4x faster than my testing of the Samsung Galaxy S 4G running on T-Mobile's "4G" network. In fact, it's faster than what most people have in their homes!
Again comparing to Verizon's other 4G phone, the Thunderbolt, download speeds between the two were roughly identical, though the Thunderbolt had consistently faster upload times (by about 20%). However, since both phones far surpass anything else out there, it's hard to quibble with this too much.
Needless to say, the 4G speed made web browsing a pleasure. Sites came up quickly and fully (thanks to the inclusion of Flash 10.1). The over saturation issues with the display were evident in browsing though, and I would love to see Samsung tone that down.
The Droid Incredible 2 can act as a mobile hotspot for up to ten devices. That's more than I've seen on any other smartphone.
Camera and video recording
The Samsung Droid Charge's 8MP rear-facing camera is top of its class for photo quality among cell phones. Shots were incredibly detailed, even in low light conditions. You can see a sample in the photo below, which was shot with medium-low indirect light.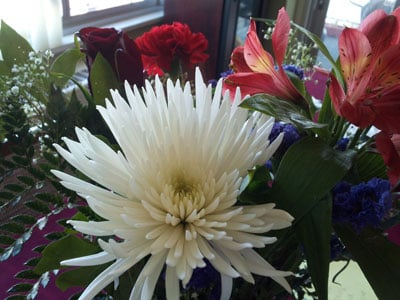 At times, the camera had trouble with color saturation, though this is something that can be corrected through photo editing software. There is an LED flash on the back.
Photo controls are intuitive, though "Shooting Mode" (e.g., continuous, panoramic) and "Scene Mode" (e.g., sports, backlighting, night) are inconveniently located in two separate menus.
The Droid Charge's 1.3MP front-facing camera is also surprisingly sharp, rivaling the main cameras of some other devices.good.
Unfortunately, the 720p video recording didn't live up to its photo counterpart. The video camera takes too much time to focus, making it extremely difficult to capture moving objects (if you have kids, this probably isn't the video camera you should be using). Though, image quality was very good when objects were not in motion.
Keyboard and Navigation
General navigation was what you would expect from Android 2.2—which is very good. There are seven panels, each customizable with various widgets and apps. The 4.3-inch display gives plenty of room for a keyboard, and typing was among the easiest of any smartphone I've used. There's also Swype built-in.
The Samsung Droid Charge is using a single-core 1 GHz processor, which should work fine for the average user. And most of the time it did—navigating through the phone menus was speedy and web pages scrolled quickly. But I experienced stuttering and delays running a processor intensive games called RoboDefense, which has worked fine on other phones.
In a break from other Samsung smartphones, the Droid Charge has physical navigation keys along the bottom. for Menu, Home, Back and Search. In general, I prefer physical keys because I can navigate by touch. But the keys on the Samsung Charge are flush together, offering little advantage.
Like other Verizon phones, there's plenty of bloatware—programs you probably don't want and that you can't delete.
Storage
The Samsung Charge comes with 2GB of onboard storage and a 32 GB microSD card.
Battery life
I didn't have time to do extensive battery life testing on the Samsung Droid Charge, but it seems to be on par with most other smartphones. It will last through the day under normal use and more than 24 hours with light use.
Pricing and availability
The Samsung Droid Charge has been delayed for two weeks due to unexplained reasons, but I was told by a Best Buy rep to expect it this week for $299.99 with a new, two-year customer agreement. AmazonWireless is offering it on pre-order for $249.99.
Should you buy it?
In many ways, the Samsung Droid Charge is simply the best phone out there. Its 4G speeds aren't even approached by any phone other than the HTC Thunderbolt, and the display on the Droid Charge is far better than the Thunderbolt's. And if you really enjoy watching movies on your phone or simply want the best browsing experience, there is no better display on any phone.
What is especially surprising about the Droid Charge, though, is the camera. Other Samsung phones, such as the Galaxy S 4G, have very good cameras, but they don't come close to the quality of the Droid Charge. In fact, the Droid Charge may rival the iPhone 4 for the best camera on the market.
The biggest downside to the Samsung Droid Charge is its size and price. If you have smaller hands, you may find it uncomfortable to hold. In my view, this phone would have been perfect at 4-inches, like the Samsung Galaxy S line, rather than 4.3-inches.
And the price of $299.99 makes it the most expensive Android phone available. Sure it's the same price as a 32GB iPhone 4 and you get more phone for your money with the Droid Charge, but with many other Android smartphones available through discounters for under $100, that's a pretty hefty premium.
Rating: Highly Recommended
Detailed Specs
Talk and Standby Time: Up to 11 hours talk time, up to 11 days standby
Band/Modes: CDMA 800/1900MHz
OS: Android 2.2
Weight: 5.04 oz
Dimensions: 5.11 x 2.66 x 0.46 inches
Battery: 1600 mAh
Display: 4.3" Super AMOLED Plus (800 x 480)
Video: 720p
Camera: Rear-facing 8.0 megapixel, Digital Zoom, Auto Focus, LED flash
Front-facing Camera: 1.3 megapixel
Mobile hotspot: Up to 10 devices
Processor: 1GHz Hummingbird
Memory: 512MB RAM, 2GB onboard and 32GB microSD pre-installed
Discussion
New Articles on Techlicious