Want to avoid the rush at your local coffee shop, or maybe check out that new restaurant in town when it's not so busy? Now, with Google Search, you can. Yesterday, the Internet giant's business listings got a new feature called Popular Times that shows you, in chart form, how popular a store or restaurant is at any given hour during any given day of the week.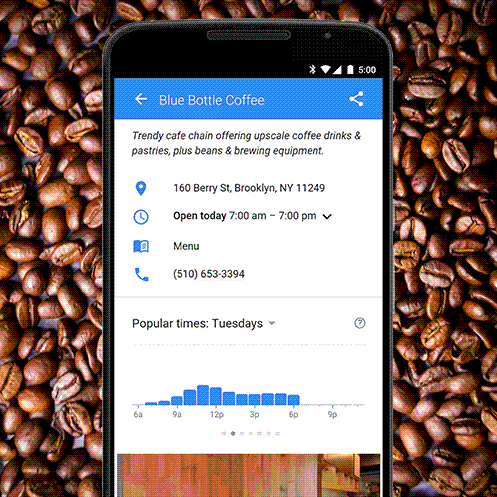 You can see how the new feature works in the animated GIF above. The current day of the week will be shown by default in Popular Times; you can swipe with your fingers to look at traffic charts for different days of the week. Apparently Blue Bottle Coffee in Williamsburg, Brooklyn is busiest on Fridays, especially after noon. And, as you can see by comparing the charts, the business is rather slow early on Monday mornings. I guess that's good news if you want to start off the workweek with a caffeine jolt – coffee with no waiting.
So, how can this new feature be used to improve your life? Well, I just looked up my gym in Google Search to see when I can get in a workout without having to wait for machines (early mornings). I also looked up my favorite burger restaurant in Harvard Square – I love eating there, but only when the busy and often-cramped establishment has room for me to sit down. The data shows it's not busy early Thursday afternoon, so I know it'll make a great, quick lunch choice for tomorrow.
Google's announcement doesn't explain exactly where its getting the data for Popular Times. Presumably, it comes from smartphone GPS data of those who are using Google apps and phones. That would explain why some smaller businesses don't have Popular Times listings – low traffic means little data to display.
Want to check out Popular Times yourself? Just head to google.com and enter the name of a local business in the search bar. Note that this great new feature doesn't appear in Google Maps business listings – yet. But keep an eye out!
[Image credit: Google]