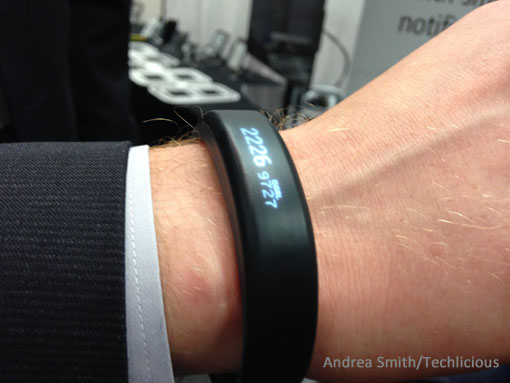 The Garmin Vivosmart activity tracker enters the already-crowded wrist-worn device market with a trick up its sleeve: It displays smart notifications from your Android or iOS smartphone, such as email and texts. You can choose which notifications you want sent from your phone.
It looks like a standard activity tracker, a black band worn around the wrist with a curved gesture-control smart display that turns on when you move your arm or touch the device. The Vivosmart comes in five colors; I like the way Garmin used the color on the underside, adding a subtle level of style and design to the band.
From your wrist, the Vivosmart allows you to control music, track your steps, distance and calories burned and remotely control the Garmin VIRB action camera. A move bar nudges you into action with vibration alerts if you've been sitting too long. The Vivosmart works with the Garmin Connect app but also integrates with RunKeeper and other third-party apps.
The Vivosmart felt more comfortable on my wrist than the Samsung Gear Fit and about as light as a Jawbone Up or Fitbit bracelet. It's an attractive design but still quite plastic-feeling, unlike the newly launched Asus ZenPhone or the LG G Watch R, which are full smartwatches.
The Vivosmart will be available at Best Buy for $170, with an optional heart rate monitor sold separately. Watch the video below for a tour of all the Garmin Vivosmart can do.
UPDATE 6/12/15: The Garmin Vivosmart is now available on Amazon for around $120.