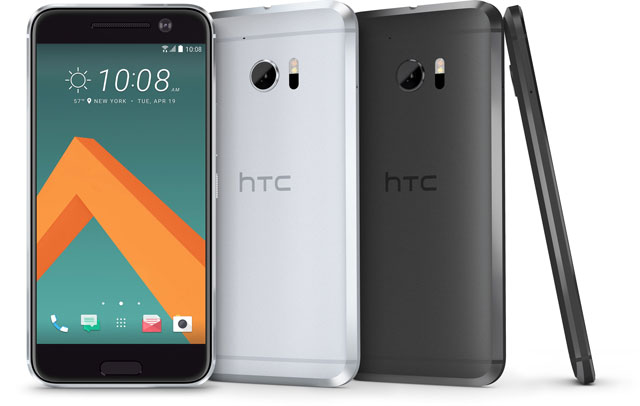 Today's announcement of the HTC 10 puts HTC right back at the top of the Android pack with Samsung and LG. The latest flagship Android phone checks all the right boxes, in terms of specs, and brings back its promising ultrapixel camera—at 12MP this time instead of 4MP, which the HTC One M7 had.
Big camera upgrades
The rear-facing camera is the standout feature of the HTC 10. At 12MP, the resolution is respectable. The fact that it's 12 ultrapixels makes it impressive. HTC's ultrapixels are larger than the pixels on most image sensors you'll find on smartphones and that enables each pixel to capture more light, which is good for low light photography and higher contrast, and richer colors. Apple's iPhone 6s has fairly large pixels at 1.22 microns and Samsung increased the pixel size to 1.4 microns with the Galaxy S7. The HTC 10 is an impressive 1.55 microns. Stay tuned for our upcoming review for our image quality testing.
The rear camera will record up to 4K video with 24-bit Hi-Res audio recording.
There's a new front camera as well – a 5MP camera with optical image stabilization, which is a first for a front camera. While not at ultrapixel size, the pixels for the front camera are an impressive 1.34 microns.
New design
HTC sticks with its aluminum unibody design, but gives it a few tweaks to give it a subtly different look. Instead of a continuous rounded back, there a 3mm bevel, which makes it look a little thinner from the side. While there are now hard edges, they don't dig into your hand while you're holding the phone. It still follows the curve of your hand nicely.
The HTC 10 also gets a full-glass front, which means the "back" and "recent apps" buttons can now be in line with the fingerprint reader, freeing up more screen real estate on the HTC 10's 5.2-inch display.
HTC is looking to declutter your home screens with what it's calling a Freestyle Layout. Instead of being stuck with the usual grid, you can move items anywhere on the screen – pixel by pixel. Taking the concept to the next level, there are stickers that you can use instead of the traditional icons. So you could use a picture and populate it with trees, birds and mountains, each of which would represent a different app. See the video below to see how this works.
Audio improvements
There are still two speakers to generate HTC's signature Boom Sound. But now one is placed at the bottom of the device, which is for lower frequencies, and one at the top front of the display for higher frequencies (with crossover, of course). New for the HTC 10 is a new Personal Audio Profile system. Based on a sound test the device conducts for each ear, a custom profile is created to match your hearing strengths and weaknesses. This custom profile then works with the audio profile of our corded headphones for the best listening experience. The profiles won't work with Bluetooth or USB-C headphones.
Performance
The HTC 10 will be powered by a Qualcomm Snapdragon 820 processor and come with 4GB of RAM. There will be 32GB on onboard storage, which can be expanded through the microSD slot. The 3,000mAh battery is designed to last up to two days and can be charged 50 percent in just 30 minutes, with the quick charge 3.0 rapid charger that comes in the box.
Availability and pricing
An unlocked version of the HTC 10, which is compatible with AT&T and T-Mobile networks, is available for pre-order today on HTC.com for $699 in your choice of Glacier Silver and Carbon Gray. Shipping will begin in early May. And the HTC 10 will also be available from the major carriers.
[Image credit: HTC]