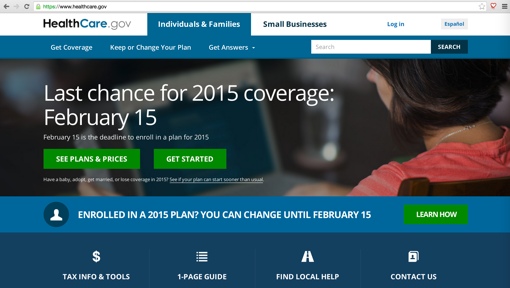 Healthcare.gov, the federal website designed to help uninsured Americans shop for health insurance providers, is once again in the news for all the wrong reasons. The Associated Press is reporting that the website is sharing personal information – including the answers to health-related questions – to third-party websites and advertisers.
When you use the site to shop for an insurance plan, data about your ZIP code, age, income, smoking history and pregnancy status is embedded in the site's referrer URL. According to the non-profit Electronic Frontier Foundation, this data is sent to at least 14 third-party sites, including advertisers Google, Yahoo and Twitter. This sensitive information is shared regardless of whether you've enabled Do Not Track settings on your web browser.
Naturally, congressional Republicans, no fans of the Affordable Care Act that Healthcare.gov was designed to support, were quick to pounce on the news. "This new information is extremely concerning, not only because it violates the privacy of millions of Americans, but because it may potentially compromise their security," U.S. Senators Chuck Grassley (R-IA) and Orrin Hatch (R-UT) wrote to President Obama on Tuesday.
The Obama administration responds that the embedded data is designed to ensure "a simpler, more streamlined and intuitive experience" for users. Outside vendors are prohibited from using the information for their own purposes. Still, it seems inexplicable that private information about a pregnancy would need to be shared with a site like Twitter in the first place.
"You don't need all that data to do service," Theresa Payton, former White House chief information officer for President George W. Bush, told the AP. "We know hackers are just waiting at the door, salivating to get this data."
The Affordable Care Act requires all Americans not covered by an employer-issued plan to purchase health insurance by February 15, 2015 or face a tax penalty. As such, avoiding the healthcare.gov website is not an option for the residents of the 37 U.S. states it serves. (The other 13 states have chosen to create and maintain their own health insurance shopping websites.) Both Techlicious and the Electronic Frontier Foundation recommend you use a third-party tracking blocker when visiting the site to better protect your data. For more information on how to do this, check out our roundup of the best browser privacy tools.
[Image credit: Healthcare.gov]