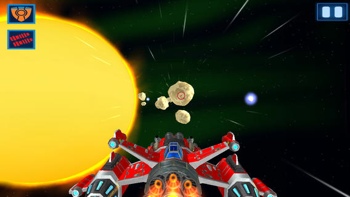 Non-profit Cancer Research UK has just released Play to Cure: Genes in Space, a free smartphone app that turns your gameplay into data used to help beat cancer.
Genes in Space tasks you with planning and flying a spaceship route. As you fly (using your phone's gyroscopic controls), you'll shoot asteroids and collect "Element Alpha," a valuable substance. After each short round, you can sell the Element Alpha you've collected to buy ship upgrades.
You can see the simplistic game in action in the video below.
Here's the cool part: Each of the game's unique levels is actually specific genetic data presented in game form. Navigating your ship helps analyze this data, which saves scientists a lot of time in their research. When it comes to finding a cure for cancer, the sooner the better.
I spent some time playing Genes in Space this afternoon. As a stand-alone game, it leaves a little to be desired – rounds are too short, asteroids don't seem like actual threats and the gameplay is repetitive. But when viewed through the lens of "hey, when I play this game I'm actually helping scientists better understand genes and fight cancer," Genes in Space feels a lot more enjoyable and important. It certainly has Flappy Bird beat as a time-killer.
You can download Play to Cure: Genes in Space for free on the Apple App Store (iOS) and on Google Play (Android).