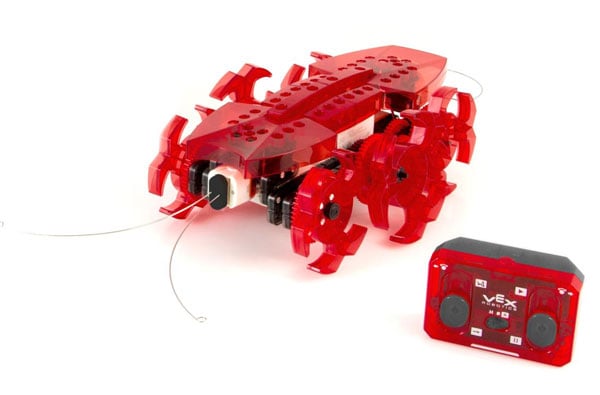 If jigsaw puzzles and crafting projects are starting to feel a little stale to your household, we've got a new rainy day project for the kids (and the grown-ups, too): robotics. Don't let the name scare you away, because a simple robotics kit can be easy to put together — and a fun way to introduce kids to the sciences.
The latest from HEXBUG VEX Robotics is the Ant ($49.99), a six-wheeled robot kit that isn't nearly as diminutive as its name suggests at over at 17.6" long. However, the Ant's antenna-like sensors on either end do remind us somewhat of an ant (albeit an oversized one). The Ant is made built from over 150 snap-together pieces with a central "brain" that kids can program by flipping switches to adjust its behavior. There are 64 different programming variations to try out and see how the Ant reacts — or you can steer the Ant using a remote control. However you choose to use the Ant, it's a fun and educational project for any rainy vacation day. (And it doesn't matter if that vacation day is at home or away — the Ant is tough enough to travel.)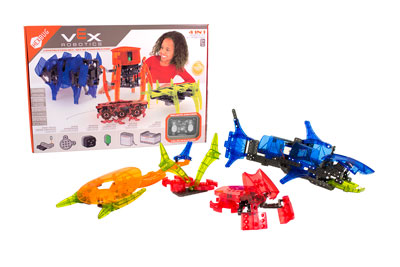 If you're looking for more robotics projects, there are three additional HEXBUG VEX Robotics kits, all of which are cross-compatible to let you build your own creations. There's the 350-piece Spider ($69.99, $60.89 on Amazon), the 250-piece Scarab ($69.99, $56.09 on Amazon), and the 400-piece Strandbeast ($89.99, $68.99 on Amazon), or you can buy in a 4-in-one kit for $149.99. Though that's a hefty investment in playtime, it may be worth it for a child with an interest in the sciences.
Bear in mind that the Ant is recommended for kids age 8+ and even older if you don't plan on helping with construction. Both the robot and the remote control require batteries (not included) so be sure you have AAs and 9Vs on hand to get these robotic creations moving.
[image credit: Innovation First]