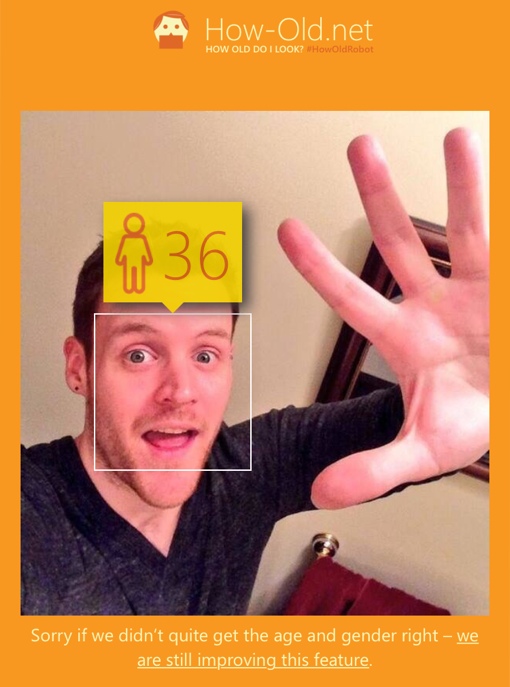 A few days ago, Microsoft launched a website named how-old.net. The site was designed to test out the company's new Face Detection API, which uses machine learning to guess peoples' age and gender based on their picture. Hoping that 50 people or so would give the site a try, Microsoft handed the website address out to a couple hundred people, asking for feedback.
Anyone who's been following social media can probably tell you what happened next: How-old.net has since gone viral, spreading from that initial group of a couple hundred to tens of thousands in 3 hours. And it's only gotten bigger since – it seems the Internet loves having computers guess how old they are. My Twitter timeline has been flooded over the last few days with friends sharing pictures of themselves and their machine-calculated age using the hashtag #HowOldRobot. My Facebook friends were just as eager to share.
As it turns out, the site is pretty easy to use. Just navigate to how-old.net on your smartphone or PC and click the upload button prominently displayed on the site. You can also try the technology out on some pre-loaded pictures if you'd rather not share a photo of yourself. The good thing is that Microsoft doesn't save and store our uploaded pictures – your photo is solely used for the purpose of guessing your age.
With all of my friends in on how-old.net, naturally I had to give the site a try myself. I uploaded a picture of myself at my current age, 35, and it returned a guess of a 36-year-old male. That's pretty darn accurate, especially considering that most people typically guess I'm far younger than that when they see me. I uploaded a number of other pictures as well; Microsoft says I look between 32 and 38 in all of them. The site was a bit further off when guessing my parents' age – it guessed my mother is over a decade younger than she really is; it guessed my father is 15 years older than in reality. (After disclosing that fact to my mother, it has now become her favorite website.)
Yes, the site isn't 100% accurate all the time. But as the Internet has discovered, facial recognition tech can be fun to play around with. So just for fun, give the site a try. And do let us know – was it as accurate for you as it was for me?
[Image credit: Fox Van Allen for Techlicious]