The Jackery Explorer 2000 Plus stands out in the saturated market of portable power stations with its quick-charging, long-life battery and easy-wheeling design. And at 25% off, it's an even more appealing choice for outdoor enthusiasts and those needing an emergency power solution.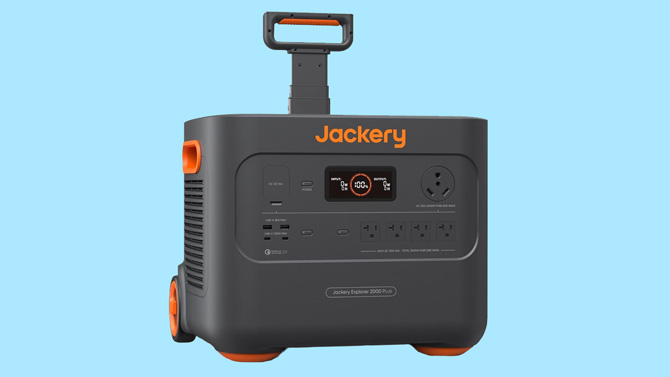 Power stations like the Jackery Explorer 2000 Plus are, in essence, portable generators for in-home use that run on long-lasting, rechargeable batteries. The Explorer 2000 Plus features a 2040Wh battery in a portable, modular design, complete with built-in wheels and a handle for easy transport. It offers a variety of connection options, including a 100W USB-C output capable of fast-charging laptops and phones and a 3000W AC output that can power 99% of household appliances.
Durability and dependability are key features of this power station. Thanks to its LiFePO4 battery (aka LFP battery), the Explorer 2000 Plus enjoys a lengthy 10-year lifespan, maintaining 70% capacity even after 4,000 recharge cycles. For those buying it for occasional or emergency use, it can hold a 50% charge for up to two years and can charge quickly, going from zero to 100% in just two hours.
Read more: Anker 757 PowerHouse: A Portable Generator with Extra-Long Lifespan
The Explorer 2000 Plus is also an Emergency Power Supply, ensuring a speedy 20ms transition to battery power when you lose electricity. This makes it a potential lifesaver in critical situations for those reliant on CPAP machines and other medical devices.
For those with an eye on sustainability, the Explorer 2000 Plus pairs seamlessly with Jackery's SolarSaga 200W solar panels (six of these panels can charge the Explorer 2000 Plus in 2.5 hours). Not only are these panels powerful, but they are also designed for convenience, folding down to a compact size for easy transport. Used in conjunction with these solar panels, the Explorer 2000 Plus can serve as a power backup during extended blackouts.
Now priced at $1,659, down from its list price of $2,199, consumers can enjoy a 25% savings on the Jackery Explorer 2000 Plus. With this current offer, it presents a compelling deal for anyone in need of a reliable, portable power station, whether for daily use or as a safety net during emergencies.

[Image credit: Jackery]