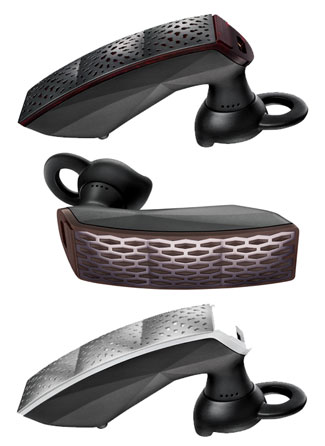 The new Jawbone Era Bluetooth Headset by Aliph provides big advances in sound quality. In an upgrade to the company's widely praised noise cancellation feature, the Jawbone Era not only removes background sound from the wearer's speech, but amplifies and digitally processes the incoming audio based on environmental factors.
The speaker in the Jawbone Era is large, despite the fact that the overall earbud is average size. This enables high-quality sound, which can be set louder without distorting. This speaker enhancement, combined with the environmental digital sound processing, is what Aliph is calling HD quality sound. Listening to music and audiobooks with the Jawbone Era under challenging conditions, both the audio quality and the volume enhancement offered clear advantages over other wireless headsets I've tried.
Other headsets on the market offer spoken Caller ID, but the Era takes a different approach. Users can create a contact list on the company web site for download to the Jawbone Era. The names match against a professionally recorded database of first and last names, so the voice whispering in your ear is human rather than machine-generated. Aliph promises to regularly add new recordings for names not found in the database.
Aliph also shakes things up with the Jawbone Era's built-in motion-sensing accelerometer. Right out of the box, this enables some unusual tricks. To enter pairing mode, for example, you simply shake the headset four times. To answer an incoming call, tap the side of the headset twice – no hunting for little Talk buttons anymore. And since the Jawbone Era is programmable via downloads from the company web site, additional uses for the motion sensor are promised as future upgrades.
The Jawbone Era is a mono headset, but it supports the A2DP stereo Bluetooth standard, so it works well with music, streaming radio, audiobooks and GPS software. The multi-point system allows connection to eight different Bluetooth sources. Battery life is a strong 5.5 hours of talk time and 10 days of standby time—a 1-hour talk time improvement over the Icon model. And in my preliminary tests, the Era did an exceptional job maintaining a clear Bluetooth connection to a phone at a distance, or stuffed in a pocket.
The Jawbone Era is a high-end headset with a price to match, at $129. Based on a few hours of ears-on testing, it seems like money well spent.