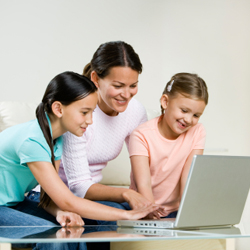 With many homes having more than one PC and children signing online in record numbers, its more difficult than ever to keep tabs on what the little ones are doing. Kaspersky PURE Total Security, the company's new flagship product, is designed to do just that–manage a home full of Web-connected youngsters. At the heart of PURE are the same anti-virus and firewall tools that made the Kaspersky Internet Security suite one of our top picks in both 2010 and 2011.
One of the things that makes the Kapersky PURE package unique is its ability to manage security for all of the PCs in your home from one machine. Using Kaspersky's central controls, it's possibly to run scans and backups on your child's netbook or the family desktop from your personal laptop.
Kapersky PURE's parental controls go beyond simple things like time limits and content filtering (which PURE does have). Kaspersky allows you to filter not only what content comes in, including the ability to block adult content or message boards, but what can go out. Kasperksy can recognize data like home addresses or credit card numbers and prevent those from being shared online. It can also monitor IM conversations and social networking messages and provide full transcripts of those communications. The parental controls can even be manipulated remotely.
Parents who are sensitive to their children's sense of privacy can set filters that only pass along transcripts if certain keywords are triggered, such as those that might indicate a child is the victim or perpetrator of cyberbullying. Parents can also limit who their children communicate with by either blocking individual contacts or only allowing interaction with pre-approved individuals.
In addition to the parental controls, PURE comes with a host of welcome features such as File Shredder, for securely deleting data, and an encryption utility for protecting your private files. Kaspersky also includes a password manager for keeping track of your passwords (you are using a different one for every account aren't you?) and keeping them safe from digital snoops.
Kaspersky PURE Total Security is available in stores and online. A one-year, three-PC license costs $89
.