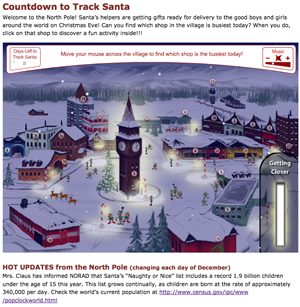 Santa's still behind closed doors at the North Pole, assembling his "Naughty or Nice" list and supervising the elves as they stack the sleighs full of gifts, but there's no escaping the watchful eyes of the North American Aerospace Defense Command (NORAD)—the wing of the U.S. Air Force that's always on the lookout for incoming missiles. They already have Santa's workshop village under surveillance, and an inside informant (Mrs. Claus) providing updates on the list's progress.
And in the spirit of President Obama's pledge of transparency, now NORAD is offering everyone a peek inside the village—at noradsanta.org, a fun website that shows which workshop is the busiest, and offers kids a new holiday game and other activities every day. Plus, to help spread the good cheer around the world, the website is available in seven languages—English, French, German, Italian, Japanese, Spanish and Chinese.
On December 24 (midnight Mountain Standard Time, 2 A.M. Eastern Standard Time), the site will show Santa as he checks his list and prepares for his global chimney tour. Then, NORAD will track his every move throughout the night, with real-time Google Earth and Google Maps reports.
Updates on Santa's whereabouts also will be available through Facebook, Twitter, YouTube, Flickr and TroopTube.mil (type @noradsanta in their search fields), as well as by calling or e-mailing NORAD. Calls will be answered and e-mail replies sent beginning at 4 A.M. MST (6 A.M. EST) on Christmas Eve.
The phone number is 1-877-Hi-NORAD (1-877-446-6723), and the e-mail address is noradtrackssanta@gmail.com.
But you won't always need to be at a computer or near a phone to find out where Santa is, if you're driving in a vehicle equipped with OnStar—another NORAD partner. On Christmas Eve, OnStar subscribers can simply push the service's little blue button to get a live Santa status update.