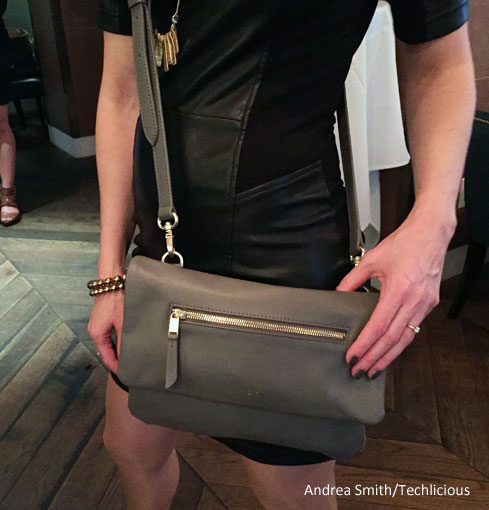 Here's an issue most women can relate to: When I pack to go on a business trip or know I'm going from the workday to an evening out, I worry about which bag to bring that will serve both purposes. I want to it to be stylish, but I also need it to hold all the cables and tech I carry in a given day, like my smartphone, iPad Mini and various chargers. I'd also like to find my pen or lipstick without having to go digging to the bottom of my bag.
The Knomo Elektronista Digital Clutch Bag has solved this issue and many more, thanks to a collaboration between Knomo and Danish tech blogger and broadcaster Christiane Vejlo, who designed the bag and its various tech compartments and flaps. Christiane told us she could never find her phone or tech items in the bag she carried every day, so she set out to design one that worked. "I wanted a bag that was made for my digital life, but what I found on the market was made for men by men. So I just had to make this bag."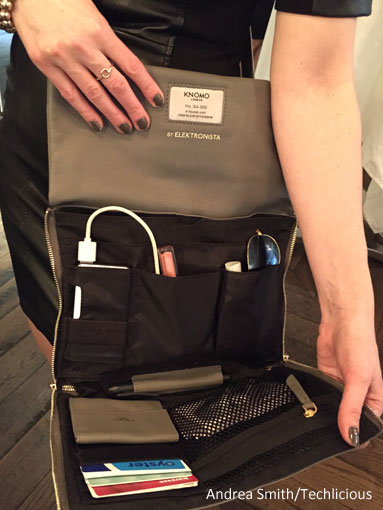 And she did. The Clutch is an elegant high-quality full-grain leather bag with a Grosgrain lining. It's designed to be carried as a clutch or worn with the included leather shoulder strap. On the inside, this is no ordinary bag. If you unzip the sides, the clutch becomes an organizer which can be opened flat, complete with convenient compartments for everything from cables and smartphones to a removable pouch you can use for jewelry or a coin purse.
There's also a back pocket for stashing your phone or passport, things you might need to reach quickly, and a front flap so you can access the inside of the bag without upzipping. You can carry up to a 10-inch tablet in the main portion of the bag without opening the zipper sides.
What makes the clutch a true marriage of fashion and function is the included 3,000 mAh battery tucked inside. While you're out looking fabulous, your phone can be charging to get you through the next item on your calendar.
The Knomo Elektronista Digital Clutch comes in three colors; black, blush which is a very pale pink, and gray, with new colors coming this fall. $350 on knomobags.com