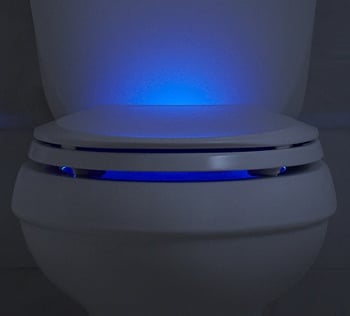 Late night trips to the bathroom are about to get a lot easier.
Plumbing company Kohler is introducing Nightlight, toilet-seat tech that uses a pair of low-intensity LED lights to illuminate your commode at night.
When the toilet seat is down, Nightlight bathes your porcelain with a faint blue glow. Once the seat has been lifted, just the right amount of light fills the bowl. It won't guarantee the kids' (and husband's) aim will always be true, but anything that improves accuracy is welcome at 3AM.
Nightlight runs automatically on a 7-hour schedule – you set it once with a single button press and forget it. Four AA batteries power the lights for about six months.
Kohler Nightlight is available on the company's Cachet Q3 and Reveal Q3 toilet seats. For more information, visit the Kohler website.