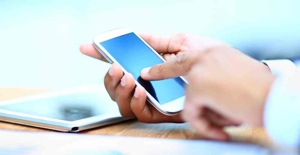 Say you're standing in line at the grocery store and your phone starts vibrating. Surely, it's an etiquette faux pas to take the call while the cashier rings you up, but what if it's not your turn yet?
These are precisely the types of questions that eBay Deals asked as part of their 2013 Cell Phone Etiquette survey. In it, 100 U.S. smartphone users were quizzed on their phone habits and what social situations they found using their phone acceptable.
Phone use at work is viewed as acceptable by 58%, with 95% agreeing it's OK to have your phone on hand at work so long as it's set to vibrate. Most smartphone activities such as making personal calls are frowned upon while on the clock, but 61% do approve of sneaking the occasional text.
Going to the movies? Smartphone etiquette says you should keep that phone turned off: 59% disapprove of using your phone at the theater, with 89% saying you should refuse calls and turn your ringer off. Sneaking a quick text or call during previews is seen as OK, though. And if your movie trip is a date or group outing, remember: It's not socially acceptable to ignore someone directly in front of you in favor of your phone.
Finally, there's some bad news for those of you who like taking your phone with you in the bathroom: Only 45% say it's OK to talk while using the loo. Texting is okay, however – 71% give texting on the toilet a big thumbs up. Just do yourself a favor and disinfect your phone after.
If you'd like to see the full results of the eBay Deals smartphone etiquette survey, check out eBay's massive infographic on Mashable. For more on smartphone etiquette, check out Techlicious's tips for good mobile manners.
[Closeup of smartphone via Shutterstock]