Virtual reality promises us an exciting future where we can go anywhere just by putting on a headset. Once plugged into a virtual reality headset, you would be able to interact with the virtual world around you just like you were there. It sounds like science fiction… and to an extent, it still is. There are a number of different virtual reality headsets out there, but most of them are pricey, requiring high-end PCs which the headsets are tethered to. Because it's expensive and sometimes complicated to set up, VR is something of a novelty that hasn't really made it into the average living room.
But Lenovo is aiming to change that. The Lenovo Mirage Solo VR headset ($399 on Lenovo, check price on Amazon) is a completely stand-alone VR headset. You don't need a computer or video game console to run it, and there are no cables to get tangled in. Being stand-alone means it's battery powered, with about 2.5 hours of use per charge. Though that may seem low when we're used all-day batteries on our mobile devices, that's probably about the maximum amount of time you probably want to be in VR at a time. (Just remember to charge it between uses.)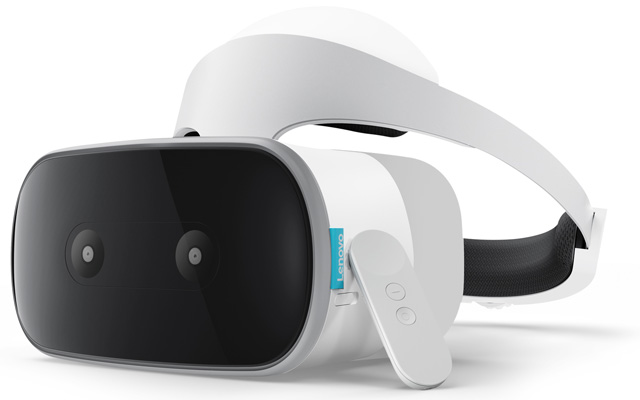 Another advantage to a stand-alone headset is that it doesn't need cameras or sensors in the room to track you. Instead, the sensors and cameras built into the Mirage Solo track of your movement in six degrees. It's a technology called WorldSense, and it lets you get off the couch to walk, jump, dodge or otherwise interact with the virtual world you're seeing. All you have to do is slip it on your head, and you're ready to adventure in VR — which is exactly the easy VR experience we've been waiting for.
The headset is powered by Daydream, Google's VR platform. Up until now, Daydream worked with Android smartphones: you would insert your phone in a padded headset, which provided the VR experience. It was a simple, inexpensive way to experience VR (provided you already had a compatible Android phone) but the quality couldn't compete with more powerful VR headsets. The Mirage Solo fills that gap, offering access to Daydream's library of 350 apps and games — 70 of which have been updated for WorldSense to give you the true VR experience. You can jump into 2023 Los Angeles playing Blade Runner: Revelations or explore 360-degree videos in YouTube VR.
Price-wise, the Mirage Solo costs less — sometimes a lot less — than most other headsets on the market. The Oculus Rift ($399 on Oculus, check price on Amazon) and HTC Vive ($499 on HTC, check price on Amazon) both require a pretty powerful PC to run, while the cheaper PlayStation VR (starting at $279, check price on Amazon) is easier to afford, but requires a PlayStation 4 ($299 on Playstation and Best Buy). The cost of these headsets starts to add up when you consider the accessories you need to run them. The Solo's closest competition is Oculus' recently released Oculus Go ($199 on Oculus, check price on Amazon). It's also a completely stand-alone headset, but it only offers three degrees of motion, so you're stuck sitting on the couch while you use it — which means it won't quite give you the immersive VR experience the Solo offers.
That covers viewing things in VR, but the ultimate use of this kind of technology is capturing your own memories in VR. Sure, you can snap a photo, but what if you could just slip on your VR headset and be in the middle of a memory? Lenovo has an answer for that problem with the Mirage Camera ($299 on Lenovo, check price on Amazon). It's a 180-degree camera with two 13MP fisheye lenses for snapping ultra-wide-angle photos or 4K 3D video — both ideal for viewing on a VR headset. The Mirage Camera looks and works a lot like a classic point-and-shoot camera: all you do is point it in the right direction and click the record button.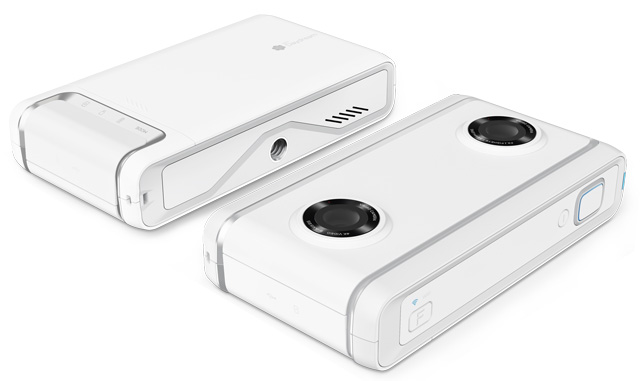 The device itself doesn't have a viewfinder or a display, but while that takes some getting used to, that's the point of the camera. You don't need to carefully compose your image, because the camera catches everything so you can view it in VR later. (And if you have to have a viewfinder, you can pair it with your smartphone to watch from there.) Sharing is simple, too. With the VR180 companion app (for both Android and iOS), you can upload to Google Photos or YouTube with just a couple of taps — and if you want to share instantaneously, you can livestream.
There are other affordable cameras on the market that can record 180-degrees or 360-degrees (like Samsung Gear 360, which can be found on sale for as little as $105, check price on Amazon), but it's harder to find affordable 3D VR cameras. The closest comparison to the Mirage Camera is the LucidCam, which offers similar features for $499 on LucidCam (check price on Amazon). That makes the Mirage a real steal for anyone interested in doing VR at home.
So should you buy? VR is still a bit of an investment, but Lenovo's latest offerings make high-quality VR easy for anyone to use, at a (comparably) modest price. You can pick up the Mirage Solo and Mirage Camera right now from Lenovo and Amazon.
[Image credit: Lenovo]