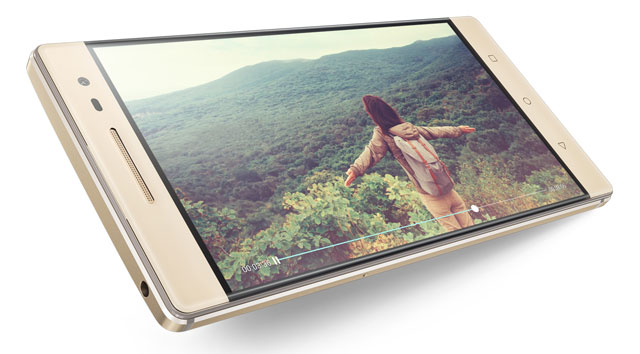 Today at Lenovo Tech World we got a first glimpse of what's coming up for Lenovo. Most impressive is Lenovo's upcoming Phab2 Pro smartphone, the first device to use Google Tango technology to bring indoor navigation and augmented reality into your pocket—it's tech with a lot of cool possibilities, though only 20 AR apps will be available at launch.
Though Lenovo announced the next two phones in its aptly-named Phab lineup (all over 6", which makes them large even for phablets) back in September, today we got our first glimpse of the Phab2 Pro. Before the Pro, we'd only seen Google Tango used in conceptual projects—for example, at MWC earlier this year, we saw Tango helping people navigate the inside of an art museum with AR dotted lines on a tablet directing them from place to place. The prospect of never getting lost again—indoors or out—looked great, but because Tango wasn't available on any commercial products it was hard to get too excited.
Now that's changed. The Phab2 Pro is coming out this September with impressive array of AR apps that deliver experiences we've never seen on a smartphone. It's an ideal companion for home design because you can easily experiment with different carpet or furniture configurations (without moving any furniture. Just point the phone to the part of the room you'd like to change and drag items on to it—like hardwood floors or a new sofa—and the screen will instantly show what it would look like. You can move your phone around to see your changes from new angles or try out different furniture configurations. You can measure ceilings, walls and furniture to see what will fit neatly into your space.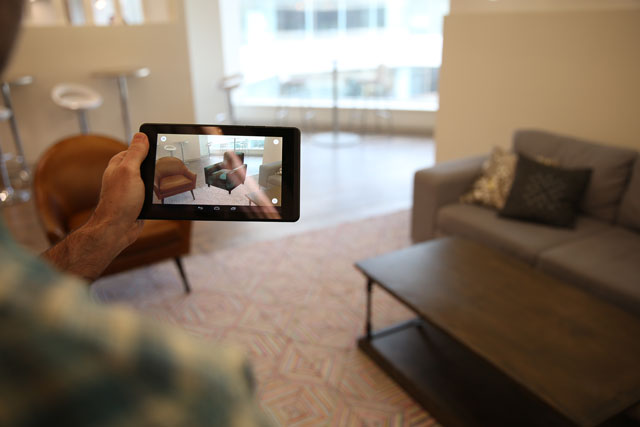 Educational apps have big potential, too. An app for the American Museum of Natural History created AR dinosaurs on the phone screen—you could scale them up or down and walk around them to see what they looked like from every angle, then tap on them to learn more. Games are an obvious fit for this type of technology, too, with the ability to raise virtual pets, fight off aliens as they swarm over the living room sofa, and even set up virtual dominos to tip over in endless chains. Unlike traditional computer programs or games, Tango's AR brings these experiences to life in a very real way.
Lenovo considers the Phab2 Pro a flagship phone and it will retail, unlocked, for $499. The 6.4" Pro has a metal unibody with a fingerprint scanner on the back for security. It has a QHD display, a speedy Snapdragon 652 processor, Dolby Atmos audio output as well as Dolby Audio Capture for clear sound recording, and both a 13MP rear camera and an 8MP front-facing camera for taking crisp photos (and selfies). A phone with this many features is sure to drain battery life, so Lenovo put in beefy 4,000mAh battery (comparably, the iPhone 6s Plus only has a 2,750mAh battery) for 15 hours on a charge.
Neither of the Lenovo's other Phab2 smartphones feature Tango, but they're both more friendly on the budget. The $299 Phab2 Plus is essentially the Phab2 Pro with an ordinary HD display, less processing power and no Tango or Dolby Audio capture. Meanwhile, the Phab2 is the budget option at $199 and is another step down in functionality with a lower resolution 720p display, a slower processor, a lower end camera and no fingerprint scanner. Still, while it's lower-end than the other Phat2 devices, it's still a solid smartphone. Like the Phat2 Pro, these will be available in September.
[Image credit: Lenovo]