This year, LG will be adding artificial intelligence to your television. Your first thought may be to wonder why your TV needs its own AI, but LG's goal is to make it easier to interact with your entertainment. Instead of pulling out your smartphone to look up other movies an actor has been in, you can just ask LG's ThinQ voice interface to show you movies the actor on screen has been in. The AI does the rest, figuring out who you're talking about and compiling a list of movies. ThinQ's smarts mean it can tell what you want no matter how you phrase it, cutting out the frustration of voice controls that don't always understand you.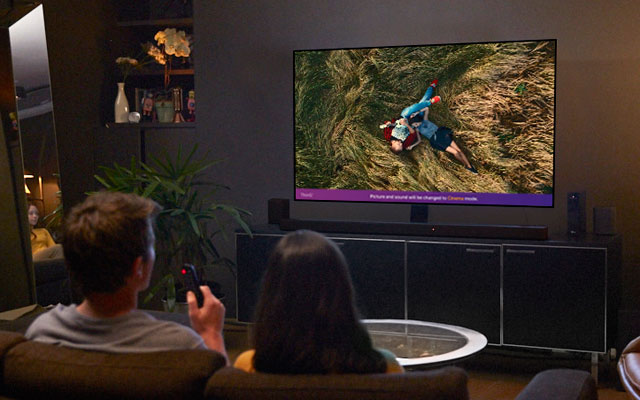 While you could ask Apple's Siri, Amazon's Alexa or Google's Assistant the same questions, none of them would understand what you're talking about — your LG TV, on the other hand, will. However, LG notes that "third party AI services" will be able to interact with your TV, too. That means you may be able to use your favorite voice assistant (LG's existing smart home devices are already compatible with Google Assistant and Amazon Alexa) to talk to your LG TV some day.
These new ThinQ TVs will also serve as smart home hubs, letting you connect your smart home appliances and control them all from your television via ThinQ voice controls (and presumably LG's SmartThinQ app). Though there's no word on which smart home devices will be compatible, you can minimally expect LG's own smart home lineup to be included. And in some countries, you'll be able to use Google Assistant to control smart devices, like lights, and activate third-party services.
But these are still TVs we're talking about: it doesn't matter how smart a television is if it can't provide a great picture. But LG's sets have always impressed us — and this year's lineup promises even better pictures. LG's latest OLED and SUPER UHD TVs feature 4K Cinema HDR, with Dolby Atmos surround sound for a full cinema experience. They're powered by the Alpha 9 processor, which improves clarity, sharpness, contrast and color for the most true-to-life image. A higher frame rate (up to 120 frames per second) will make fast on-screen motion clearer — a must for sports and gaming. In short, LG's new ThinQ TV lineup is poised to offer some of the best TVs we've seen yet.
LG will be showing off its ThinQ TVs at CES next week, where we will be checking out its smart voice controls for ourselves.
[Image credit: LG]