In case you didn't think smartphones weren't smart enough, LG's new flagship G7 ThinQ will be imbued with artificial intelligence (AI). In particular, it will have (AI)-assisted camera capabilities and camera-specific Google Assistant voice controls.
And, like other flagship models, it's coming fully loaded with the latest tech. It's equipped with a super bright sunlight-resistant 6.1-inch QHD screen, the latest Qualcomm octa-core Snapdragon 845 processor, dual rear 16MP lenses and a front 8MP imager, 4GB of RAM and 64GB ROM, a loud "boombox" speaker, DTS surround sound through headphones, Google Assistant and LG's ThinQ smart appliance platform, and an "all-day" 3000mAh battery. Here's how the key features break down.
AI-Assisted Camera
Officially called LG's AI Pack 2.0, the AI technology allows the G7's camera to automatically select the optimal "scene" camera settings. Able to recognize patterns and adjust to 1,162 image identifiers categorized into eight scenes, the AI engine constantly adjusts itself on the fly to optimize contrast, saturation, and color. You get both visual and haptic feedback when the scene mode changes as you frame your photo.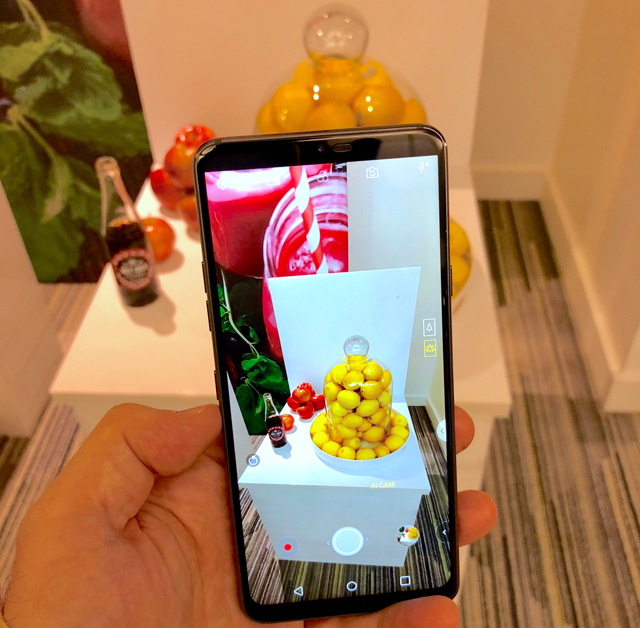 Like an increasing number of high-end smartphones, the G7 features dual rear cameras, one an F1.6 lens with a 71-degree field of view (FOV) and the other an F1.9 with 107-degree FOV, to better adapt to a wide variety of lighting and scene conditions. The 8MP F1.9 front selfie camera supplies a 90-degree FOV.
In addition to AI, LG has created 32 unique camera-specific Google Assistant voice commands such as "open the camera" or "take a photo in low light mode," etc. And to make Google Assitant more accessible, the phone is equipped with a physical Google Assistant hotkey button so you don't have to vocalize "Hey, Google."
AI isn't used to assist video, but video capture does get an upgrade. The G7 will be able to capture 4K footage and save it using less storage-intensive HEVC (H.265) compression format.
Sunlight-friendly display
The G7 features a bright 3120 x 1440-pixel, 1,000-nit display – about as bright as most LCD TVs – which LG claims is the brightest and most vibrant available on any smartphone. This super-bright display is designed to enable you to see the screen clearly, regardless of the amount of bright sunlight. The display itself has hardly any bezel and a 19.5:9 aspect ratio, which is slightly wider than a 16:9 TV screen to display wider-screen movies. Plus, you can choose either "full screen" mode, with an iPhone X-like notch at the top around the front camera or sans notch, with status modes displayed on black.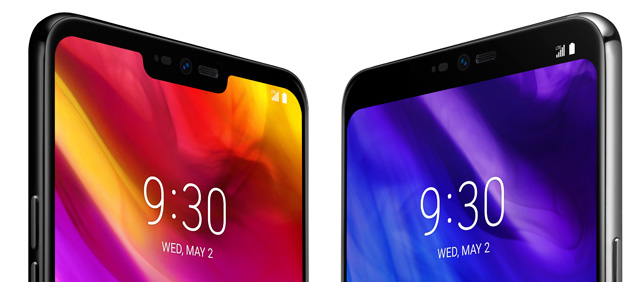 The G7 automatically analyzes current content, such as video, game, photo or web, and optimizes the display screen to one of six different color settings to better display different content.
Audio quality gets a boost
Sound-wise, the G7 has a single speaker mounted on the bottom perimeter, along with a standard 3.5mm headphone jack. LG says the speaker is 39 percent larger than the G6's and has 17 times for resonance. The speaker uses the empty chambers inside the phone's chassis to enhance audio. The speaker is loud with plenty of bass.
The G7's real sonic benefits are derived when you listen through wired headphones. The G7 is the world's first smartphone to include DTS:X 3D 7.1-channel surround sound to provide "cinematic audio on the go," according to LG. The "X" represents "height" acoustic information, so you can hear airplanes above you. And the G7 is equipped with a high-end 32-bit digital-to-analog converter (DAC) for music lovers wearing wired headphones.
LG also claims that its Super Far Field Voice Recognition lets the phone hear spoken Google Assistant commands from up to 16.4 feet away, compared to the usual 6-foot hearing radius of most Android phones, or up to 6.6-feet away in a noisy TV environment.
All-day battery life
Even though the screen is larger and brighter than past LG models, the company says new technology reduces power consumption by 30 percent compared to the previous LG G6. As with past LG models, the battery is not removable.
Price and availability
The G7 will start rolling out to U.S. carriers in June, likely for less than $1,000. It'll be available in New Platinum Gray, New Aurora Black, New Moroccan Blue or Raspberry Rose, depending on the carrier.
[Image credit: Stewart Wolpin/Techlicious, LG]