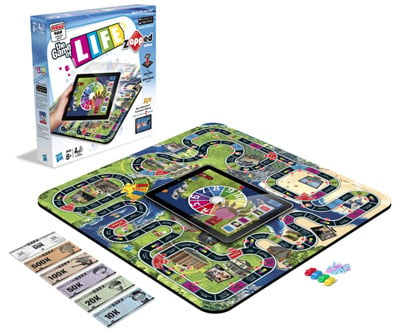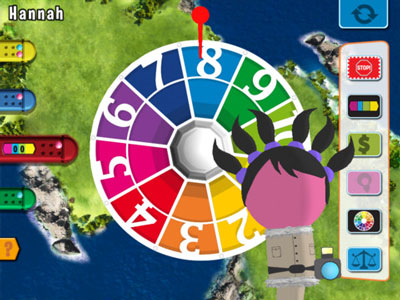 Hasbro is merging some of their traditional board games with mobile devices and tablets to bring new life to family gaming. Launching this week, The Game of Life zAPPed edition ($24.99 on Amazon.com
)updates the face-to-face board game with the interaction and accessibility of an app.
Using your iPad actually speeds up the game set up process. Simply download the The Game of Life zAPPed app onto your tablet (free in iTunes), dole out $10k to each player, place the iPad on the game board, and viola! Players can create and upgrade their own custom "Peg Person" and spin the virtual spinner in the iPad app. Clips from "America's Funniest Home Videos" play whenever a player lands on a special space (Life space, payday, stop, etc.)
Kids and teens growing up in the YouTube generation will likely laugh at the videos that play for different Life milestones, but parents may be left scratching their heads with these new more social features. (For instance, the video accompanying college graduation may be a boy doing backflips to get his diploma, eliciting giggles from kids, but a "Huh" from players over the age of 35.)
Remarkably, playing this zAPPed version of Life seemed to fly by. Even though Hasbro has added videos and mini games in this enhanced version, it actually keeps moving and plays quite quickly.
The Game of Life zAPPed edition is available now on Amazon.com and ToysRUs.com this week, rolling out to other retailers later this year. The Game of Life zAPPed is recommended for two to four players, ages 8+.
Monopoly zAPPed will be available in June 2012 and Battleship zAPPed will appear on store shelves in September 2012.