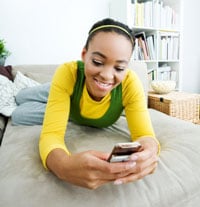 Worried your teen is engaging in risky texting behaviors? Two new texting services can monitor conversations and block texting while driving.
SMobile Parental Controls & Monitoring
You can now monitor just about everything your child does on her cell phone–except voice conversations–with SMobile's Parental Controls & Monitoring software. It checks messages for user-definable key words (i.e. pot, beer, sex, etc.), backs up the content stored on the phone and scans for malware. In July, an image analysis update will enable the software to recognize and actually let you stop offensive images from being sent or received. The app works on Symbian, Android, Windows Mobile and BlackBerry phones and costs $30 a year.
TextArrest
TextArrest not only monitors how your child is using their BlackBerry or Android phones, but also where they're using it, especially if they're driving. Once installed on their phone, all functions become disabled when the GPS-powered app senses your child is moving faster than 5 MPH (you can set the speed limit). The phone also sends you alerts when he or she travels outside of a given geographic – or "geofence" – area. The software is free if you just want to lock the phone against unwanted texts while driving, $4.99 for the whole geofence and phone monitoring package to monitor up to five phones, or $9.99 for up to 10 phones.