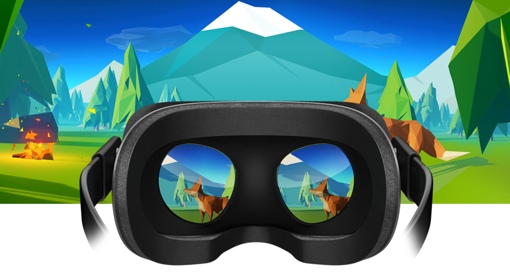 The virtual reality revolution is on its way. Last week, Facebook-owned Oculus officially introduced the final consumer version of the Oculus Rift virtual reality headset. The tech, expected on store shelves by the first quarter of 2016, has the potential to completely change the way you view and play video games by actually putting you inside an immersive 3D game world.
What is the Rift, exactly? As you can see, it's hardware that straps relatively comfortably to your head and plugs in via wire to an included gaming PC. Two adjustable OLED screens power visuals, one for each eye. Much of this optical display is adjustable, so you can get a good fit even if you wear glasses or have unusual facial features. Sound comes from a pair of headphones that easily mount to the side of the rift.
Controlling what you see, meanwhile, requires some smart input and capture features. Each Rift has a camera mounted to it, so the hardware can track your head positioning in-game – look down in real life, and you'll look down in the game. Moving your character requires the use of an Xbox One gamepad (comes with each Rift sold). The company is also working on its own special VR controller called the Oculus Touch (below) that actually captures hand movements; that tech is due out sometime in 2016 after the launch of the Rift.

Now, technical information is all well and good, but the important question here is this: Just how good are the games? Well, the folks at Oculus showed off some software at its press event, and the early stuff looks incredibly impressive. Titles currently in development for 2016 release include EVE Valkyrie, a space shooter game; Edge of Nowhere, an adventure VR game from Insomniac (Ratchet & Clank); Chronos, a dungeon-explorer game; a kids' platformer called Lucky's Tale; and VR sports titles (football, basketball, hockey). Many use an over-the-shoulder style character format, where your avatar actually appears on screen (rather than you, physically, becoming the character as you might expect). You can check out some of the gameplay in the YouTube video below.
Naturally, this first-generation virtual reality headset will set you back a nice chunk of change. It's expected that an Oculus, bundled with the PC hardware required to run it, will run you about $1,500. The headset itself represents about $300 to $600 of that cost, CNN suggests. That's a lot of money to be sure, but the price is expected to fall significantly over time. The Samsung Gear VR, a competing virtual reality setup, currently retails for just $200, but it only works with the Samsung Galaxy S6 phone and lacks the same developer support as the Rift. HTC's re Vive VR headset, meanwhile, is due out by the end of the year.
You can learn more about the Oculus Rift by visiting the company's website at oculus.com.
[Image credit: Oculus]