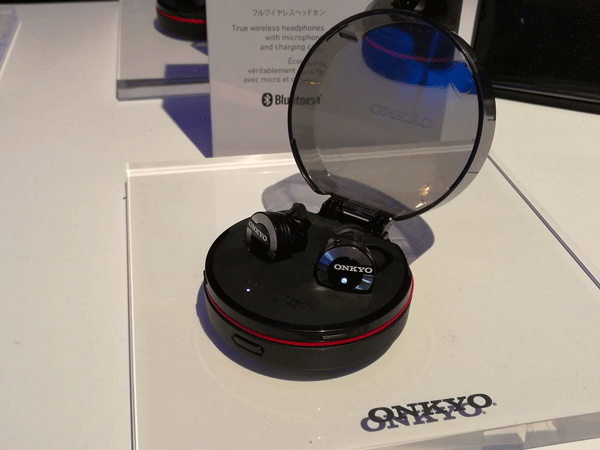 In the future, everything is wireless. Charging your phone? Nope, you don't need a cord. Flash drives? Why even bother with plugging them in? Headphones? Yep, they connect to your phone without a cord, too. But there's still that pesky problem of the wire connecting the two earbuds together. What kind of a future is that?!
Japanese audio technology company Onkyo and Gibson look to have cut the cord in both places with their W800BT wireless in-ear headphones.
As the "BT" signifies, these headphones connect to your device via Bluetooth up to ten meters away; that takes care of the cord to the phone, but there are a lot of other earbuds out there that do the same. What makes the W800BTs different is that they also connect to each other with bluetooth—so you can listen to your music 100% cordless.
Onkyo's earbuds are relatively tiny at 128mm wide, 200 mm high and 50mm deep, although in this press picture, it looks like they stick out from the ear quite a lot more than, say, a hearing aid would. It's still pretty impressive that they are able to work without a wire connecting the two.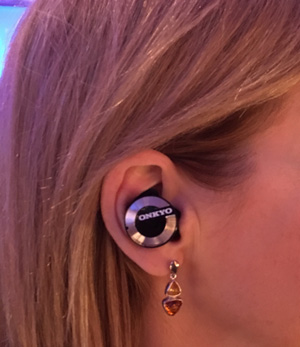 The right earbud contains a microphone for telephone calls, and they're designed with a "closed acoustic architecture" to keep out the external noise you that bombards you on the street while taking those important calls. Because they're earbuds, they're only noise isolating rather than fully noise canceling, however.
We gave them a listen at CES 2016 and they provided pleasingly full and rich sound for Bluetooth earbuds.
Onkyo says the W800BTs last for three hours without a charge, which doesn't really hold up to its "wireless" earbud competitors like the Jaybird's X2 (eight hours) or LG's Tone Infinum (14 hours) earbuds. However, the W800BTs come with a charging case that provides enough power for up to 15 more hours of talk/music time. The charging case is charged with a built-in USB cable, so I guess they're not totally cord-free, but I digress.
Although we now live in this cordless, bluetooth-enabled earbud future, unfortunately, we can't yet be worry-free; after all, we still have to keep from losing those tiny things (although Altec Lansing's fully wireless Freedom earbuds have built in GPS, at the expense of aesthetics).
Onkyo says their W800BT wireless in-ear headphones will be available in North America in March for $299.99. That's a little pricy, so hopefully you won't have to have someone wire you money to buy them.
[Onkyo W800BT wireless in-ear headphones via Onkyo and J. Kirschner/Techlicious]