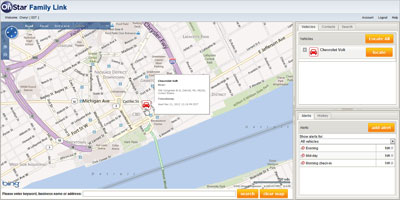 OnStar has begun rolling out a new solution specifically aimed at families, allowing family members to track their progress in a vehicle at all times. Available as an add-on to the basic OnStar service, OnStar Family Link enables anyone with granted permission, the ability to view the current location of your vehicle on a map powered by Bing.
This is terrific news for parents anxiously awaiting the return of their teenager from work, dates, parties, school and more – especially if there's inclement weather or your kid tends to forget to call or text on the way home. (We don't know anyone like that here.) But it isn't just for use with teens, it's a useful service for parents divvying up weekend errands, or family members sharing rides, or tracking the whereabouts of an aged family member driving around town or coming into town for a visit.
You don't have to feel like you're stalking your loved ones online, OnStar Family Link has Vehicle Location Alerts which allow you to receive either email or text messages updating you of a vehicle's location at certain times of the day - After school? During rush hour? - including alerts when your family member has arrived at their destination.
OnStar created this service as a deterrent to unnecessary calling or texting in the car that often occurs to family members when en route. Family Link is the first add-on service to complement the existing OnStar service, and will cost $3.99 per month. Select OnStar subscribers were invited to sign up in April, with a further rollout to additional subscribers starting in June. If you don't own a GM vehicle with OnStar, you can purchase OnStar FMV ($99 on onstar.com) to install and use in your own car.
.