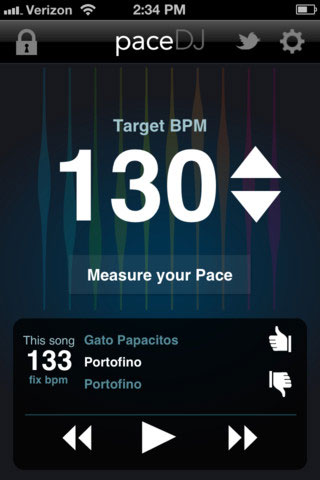 The best music for working out has a tempo, or beats per minute, that matches or slightly exceeds your steps per minute. With PaceDJ ($1.99 on iTunes and Google Play), it's easy to find that music right in your own music library.
With PaceDJ, you run, walk or bike for 30 seconds to establish your pace and then the app pulls the songs from your music library that match. You can always manually adjust the settings if your test pace isn't a good match for your true pace.
The app works best when you have a large library and can keep the music within a range of a few beats per minute. To increase the pool, you can choose to include half tempo and 2x tempo songs, which I tried and found to work well, or increase the beats-per-minute range.
If your music library doesn't have music that's a good match, you can go to PaceDJ.com for suggestions and click through buy from iTunes or Amazon. The music discovery service just launched, though, and needs a lot more music and pre-built playlists to make it useful. So in the meantime, check out Running Playlist, Running Music Mix and Run Hundred.