The Panasonic Arc5 Electric Shaver has long been our top pick for men's electric shavers. Now, Panasonic has updated the Arc5 lineup with the new Arc6 shaver, which launched in Japan in April and is coming to the US market this spring.
As the names suggest, the Arc5 has five blades, while the Arc6 adds an extra sixth blade to conquer stubborn stubble. But there's more to it than that. The extra blade is part of an overall new head design that Panasonic claims works exceptionally well on longer beard hairs. Two of the six blades are titanium-coated blades specifically designed to catch thick stubble, and they're paired with two stainless steel finish blades and two lift blades to catch every last hair (four times as many hairs in a single stroke than the Arc5).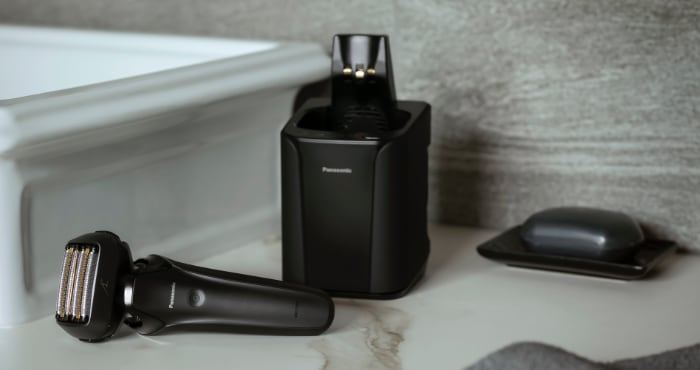 The shaver head is capable of independent movement in 22 different directions, with updated beard sensing technology that uses light to monitor the thickness and density of hair and adjusts the motor 14 times per second to provide the right amount of power to cut through heavy stubble. The result of all of this new technology should be a close shave with less skin irritation — Panasonic reports that it reduces the "burden on the skin" by 10% compared to Arc5 model shavers. The Arc6 should offer a quick shave, too, with an ultra-fast motor that delivers 14,000 strokes per minute.
The shaver also offers some nice convenience features. It's designed to maintain steady power even as the battery depletes, so you can get a solid shave even when it's nearing the bottom of the energy well. A touch-sensitive handle with an auto-lock/unlock feature ensures it won't accidentally turn on while you're traveling. They're both solid additions to this high-powered electric shaver.
Do you really need a 6-blade shaver? Maybe not, but if you want the best possible shave the updated features of the Arc6 promise to provide it. But this great shave comes at a cost: the Arc6 starts at $399, or $499 when bundled with an auto-cleaning and charging station. It's a significant price increase over the current Arc5, which retails for $199. Only you can say whether this high-tech shave is worth that price tag. Though the Arc5 was also $399 when we first reviewed it in 2013, so we may see price drops on the Arc6 over time.
Pre-orders aren't available yet but look for the Panasonic Arc6 shaver to go on sale this April.
[Image credit: Panasonic]
Elizabeth Harper is a writer and editor with more than a decade of experience covering consumer technology and entertainment. In addition to writing for Techlicious, she's Editorial Director of Blizzard Watch and is published on sites all over the web including Time, CBS, Engadget, The Daily Dot and DealNews.