The Best Men's Electric Shaver: Panasonic Arc5 ES-LV65-S
Techlicious editors independently review products. To help support our mission, we may earn affiliate commissions from links contained on this page.
After reviewing the options and hands-on testing, the Panasonic Arc5 ES-LV65-S wins our top pick for the Best Shaver on the market with its superior shave and a history of glowing reviews.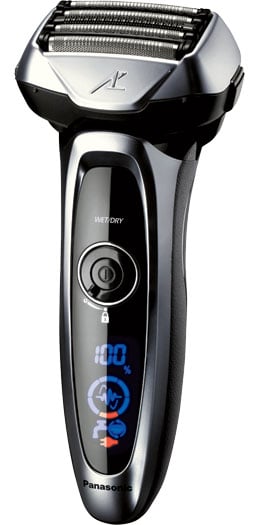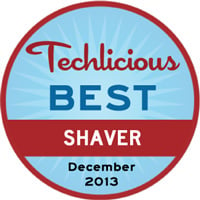 UPDATE 11/01/22: There's is an updated model of the Arc5 (ES-LV67-K) now available on Amazon for $178. It has the same shaving technology as our recommended Arc5, with some minor updates to the design and battery display, and it comes in at a much lower price.
For clearing away facial hair, men have two choices: a modern electric shaver or the age-old razor and blade. I have favored electric shavers over razors for nearly 30 years, and through the decades I've used and tested various models from three leading brands—Braun, Philips Norelco, and Panasonic.
Today, my shaver of choice is Braun's top-of-the-line Series 7 model 790cc–4, which I started using after its debut in 2010. The Series 7 also ranks at the top of Consumer Reports' shaver test. And to-date, Braun still has not announced any intention to replace it with a new top model.
Nevertheless, I wanted to know: What is the best men's electric shaver now, at any price? Is there a newer shaver from any brand that's better than the Braun Series 7? To find the answer, I searched the Web for reviews of an assortment of shavers from various brands, compared technical specifications and prices, then tested out the top contender head-to-head against my beloved Series 7.
I discovered the Series 7 has been equaled in user reviews online, by the Panasonic Arc5 model ES-LV61-A—an electric shaver with five blades, two more than the Series 7.
To see if I would agree, I contacted Panasonic to request a review unit. I learned that there is an even newer Arc5 model that is just debuting in stores— the ES-LV65-S—that shares all the best features of the LV61, plus adds a new "stubble sensor" that automatically detects your beard's density and adjusts the shaver's motor speed to optimize cutting ability.
With review unit in hand, I went about testing the ES-LV65-S against my tried-and-true Series 7. While it was a close call, the Panasonic ES-LV65-S gets my pick for the best electric men's shaver based on its superior shaving results, even if it comes at a stiffer price.
Better technical specifications
The Panasonic Arc5 ES-LV65 carries a stunningly high $499.99 manufacturer's suggested retail price (MSRP), which is nearly double the $269.99 MSRP of the Braun 790cc. But the price of the ES-LV65 is quickly dropping, currently available for $399.99 on Panasonic.com. And, helping to justify that staggering price differential, a comparison of both models' technical specifications does give the edge to the Panasonic shaver:
Whereas the Series 7 utilizes three cutting blades (two at the front and back edges and one in the center), the Arc5 has five: two at the front and back edges, two adjacent to these, and one in the center.
Whereas the Series 7 has a powerful motor that keeps the shaver's cutting head moving at a super quick speed of 10,000 vibrations per minute — to help lift hairs off the skin and prepare them to be cut — the motor in the Arc5 is 40 percent faster, vibrating the cutting head at a rate of 14,000 cycles per minute.
Unlike the Series 7, which integrates all of the blades and foils in a single replaceable cartridge, the Arc5 has separately replaceable foil and blade cartridges, allowing users to economize by buying only new blades if they so choose. However, there is a caveat: The cost to replace the Series 7's single cartridge is lower than the cost to replace the LV65's separate cutter and foil, at $33.99 and $69.95 respectively. (I did find an Arc5 combination cutter and foil package on sale at Amazon.com recently for only $67.98.)
The new "stubble sensor" in the LV65 automatically detects the beard's density and adjusts the shaver's motor speed to optimize the device's cutting ability.
Both the Series 7 and the Arc5 feature 100 percent waterproof bodies, so they can be rinsed clean under running tap water. But the Arc5 is marketed as a "wet/dry" shaver that can be used with shaving foam or gel if desired, and the Series 7 is not.
Like a vacuum cleaner for your face — but the head is huge
An on-paper comparison is one thing, an on-face comparison quite another.
Indeed, like a facial vacuum cleaner, the Arc5's five-bladed shaving head erased my beard stubble quickly and efficiently, sometimes needing only one stroke to clear an area of my face, even with two-days of growth. And, overall, it completed the shaving task in as few or fewer strokes than my Series 7. But as with other Panasonic shavers, I found that the Arc5's extremely large shaving head made it awkward to use, especially around the edges of my sideburns.
Aesthetics are always a matter of personal opinion, of course, but I also thought the Arc5's shaving head was disproportionately oversized and visually weird atop the shaver's slim body. The Braun Series 7 design is proportional and stylish and more appealing to me.
The new Arc5 follows a winner
There is no denying the popular consensus around the ES-LV65's predecessor, Panasonic's Arc5 model ES-LV61-A.
Amazon ranks products according to their share of positive user reviews, updating the rankings daily. And as I'm writing this article, in the category of "mens foil shavers" the Arc5 is up near the top, ranked in fourth place behind two other Panasonic shavers and the Series 7—having only recently dropped below the Series 7 in rank.
In a lengthy review comparing the Arc5 LV61 to both a Braun Series 7 shaver and another Panasonic shaver—the four–blade ES-LA63—Amazon user Dean! wrote in October 2011, "The shave on the 5-blade LV61 is as close as any blade razor without drawing blood! I did the chin stubble test and with this LV61 you absolutely cannot feel any stubble...I get close shaves that last beyond 5pm...and my skin always feels smooth." This was comparable to the four–blade LA63 shave quality, he said, adding that both of those machines shaved closer than the Braun. But Dean! observed that the LV61 is better built than the LA63, which "feels cheaper in quality from grip to aesthetics." He noted that the LV61 also feels lighter and better balanced in the hand than the LA63, which he called "top–heavy."
Likewise, Amazon user William F. Liberatore wrote in September 2011, "I still don't think that the Panasonic is as close as a good blade shave, but it is close enough that you'd be hard pressed to tell the difference." He added, "It charges very quickly and seems to run a fairly long time on a charge. I've used it 3 mornings now and still showing 100%."
Cleaning machine option
I like that my Braun 790cc came with an accessory machine that uses an alcohol–based cleaning and lubricating solution in "Clean & Renew" cartridges (sold separately) to refresh the shaver after each use. In packs of four at Amazon.com, those cartridges cost about $5 each. Shaving every other day, I normally consume one cartridge per month (12 per year).
Many people would consider using such a cleaning system for a shaver that can be rinsed off in the sink to be silly. It adds to the cost of the shaver, creates monthly cleaning cartridge expenses and takes up more space on your vanity. And for those people, the fact that the Panasonic LV65 is sold without the cleaning machine option could be a benefit. But if you really want it, the ES-LV95-S comes with one for an extra $100.
Final call
If you're looking for the best shaver on the market, go for the new Panasonic Arc5 ES-LV65-S. It takes the winning technology of its predecessor and steps it up a notch. If you don't want to plunk down the admittedly pricey $399, the Braun Series 7 model 790cc and Panasonic ES-LV61-A are fine runner-ups that will save you $100-$200. And if you're really on a budget, check out our pick for the Best Shaver Under $100.
Panasonic Arc5 ES–LV65–S



UPDATE 11/01/22: There's is an updated model of the Arc5 (ES-LV67-K) now available on Amazon for $178. It has the same shaving technology as the prior Arc5, with some minor updates to the design and battery display.
Foil vs. Rotary and a Runner–Up: Philips Norelco SensoTouch 3D 1280X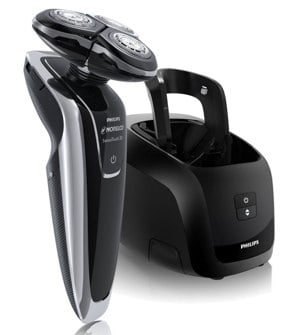 All of the above shavers fall into the "foil" category. That means their blades sit beneath a curved metal cover with a pattern of holes to capture hairs for cutting (the foil). The other major shaver category is "rotary," dominated by Philips Norelco models. Rotary shavers have blades that sit beneath round hole–covered heads that spin to capture and cut hairs. Bestratedelectricshavers.com offers an excellent exploration of the differences between foil and rotary shavers.
I also researched the best rotary shaver available today, and easily concluded it's the Philips Norelco SensoTouch 3D, which features three shaving heads fixed in three independent sections, each able to move in three dimensions — pivoting around, tilting inward and flexing outward — to shave closer on face and neck curves. And each of the three heads also incorporates three different schemes for capturing hair to be cut: channels to catch longer hairs, slots to catch normal length hairs, and holes to catch short stubble.
A few SensoTouch 3D models are available, but the top–rated of all is the 1280X, which is the top–rated rotary shaver at Amazon.com, (where it sells for $312.95, discounted from an MSRP of $349.99). It also is the top–ranked of all electric shavers in ShaverGuide.com's Top 10 list, and it garnered a "top rated" listing and accompanying stellar review at Bestratedelectricshavers.com.
However, the 1280X is one of those shavers that includes a cleaning machine. For those who prefer to buy just the shaver, the technically identical SensoTouch 3D 1290X (MSRP and Amazon.com price of $249.99) excludes the cleaning machine and offers a significant discount.
I tested a review unit of the 1290X with three–day stubble and found it quickly eradicated most of the whiskers on my face and neck. I was unable to accurately shave around the edges of my sideburn with the rotary heads, however, when following the recommended procedure with rotary shavers of using circular sweeping motions. I substituted the shaver's horizontal long–hair trimmer as a solution, but it did not perform the task anywhere near as well as a foil shaver does.
The motor in the 1290X also seemed to me less powerful than that in either the Panasonic Arc5 or the Braun Series 7. None of this was a surprise to me; I have found in past trials that the best foil shavers provide me a closer shave than the best rotary shavers.
Philips Norelco SensoTouch 3D 1280X
But here, of course, is the overarching caveat: Your preference may vary.
If the store's return policy allows it, sample each of these for two to three weeks — the time it usually takes for skin to adjust to an electric shaver when switching from a manual razor — keep what you like and return the others.
(Panasonic, Braun and Philips Norelco offer their own money–back satisfaction guarantees independent of retailers — valid for 30 days, 60 days and 45 days from date of purchase, respectively.)
Discussion