Gamers of a certain age may remember Nintendo's Power Glove game controller, as immortalized in the movie The Wizard starring Fred Savage. Fast forward twenty years, and the superior Peregrine gaming glove, a hand-worn controller developed by Iron Will Innovations, stands ready to make its mark on the gaming community.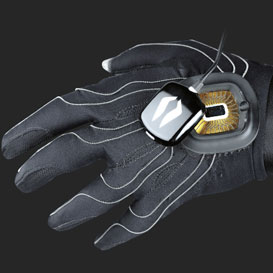 The Peregrine glove allows you to play an online game like World of Warcraft or manipulate a computer program like Photoshop or InDesign with literally the touch of your fingertips. It's compatible with PC games or other applications controlled by repetitive keyboard strokes, and connects to your computer via a breakaway pod that sits on top of the glove (on the backside of your hand).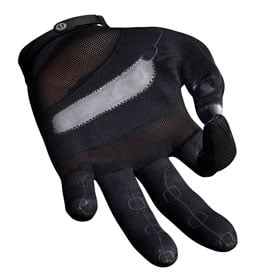 The glove registers over 30 different commands (or keystrokes) by touching any of the 18 contact point sensors embedded along the fingers, and three activator pads, two located on the thumb and one on the palm. You can calibrate the glove to your hand to ensure accuracy, and even activate two actions at once – say by putting your finger to your thumb, and your ring finger to your palm (go ahead and try making both actions at the same time – it works) for added functionality.
The breakaway pod includes memory, allowing you to save up to five user profiles. The material is hand-washable (after removing the pod) and designed to be breathable, with vents located in strategic spots throughout the glove to keep your hand cool and reduce perspiration over prolonged use.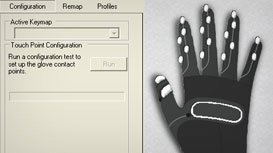 The glove is promoted for gaming purposes as it can increase your play speed when you are trying to conduct a series of actions quickly. However, beyond multi-player online gaming, it's easy to see the Peregrine glove being applied to help people avoid repetitive strain injury or carpal tunnel syndrome. There are many possibilities for integrating the glove with these keyboard shortcuts (perhaps graphic design and animation?), and even the US Department of Defense has contracted with Iron Will Innovations to integrate the technology.
The Peregrine glove is initially available for the left-hand only, designed for people who commonly use a mouse in their right hand. There are three sizes: small, medium and large determined by measuring your hand. You can purchase it now via pre-order on the Peregrine website for $129.99 (a $20 discount off of the normal retail price of $149.99), and it will ship around the end of March 2010.