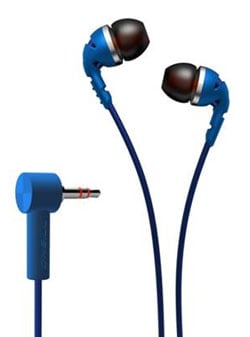 Philips has partnered with O'Neill to create an extra-rugged pair of headphones called The Tread. Intended for outdoor sports (or anywhere else you may want to listen to music while taking a beating), The Tread earbuds are made from steel and can withstand an impact of up to 300 pounds. In addition to the steel construction, the cables are reinforced with Kevlar.
I gave these babies a test by stomping on them a half dozen times and wasn't able to make a dent.
Two models are available. The SHO2200 ($39.99) and the SHO2205 ($49.99), which includes a universal mic, volume and track control compatible with Apple, LG, Motorola, Palm, HTC, Blackberry, Nokia, Sony Ericsson and Samsung devices. Color choices include black, white, blue and red.
Philips expects The Tread headphones to be available in April, 2012.