If you're on a budget, it may be tempting to buy a recent-model used phone. A pre-owned phone can be in like-new condition and cost a lot less – up to 60 percent off. But purchasing a used phone raises some valid concerns about whether it's been flagged as lost or stolen and if it's been unlocked so you can activate it.
Used-phone sellers like Swappa, Amazon Renewed, and eBay Refurbished, among others, require testing for all phones sold on their platforms to ensure the phones are not stolen. And individual sellers on sites like Back Market offer the same assurances. However, if you're buying directly from an individual seller (including via sites like Craigslist or Facebook Marketplace), I strongly recommend you confirm the device is not lost or stolen and has been unlocked by the carrier.
Increasingly, individual sellers are turning to Phonecheck, a company that provides device testing and erasure software for major manufacturers like Apple, for third-party testing and verification. Phonecheck allows sellers to share a Device History Report, which offers potential buyers comprehensive information about a used device's status. It verifies whether the device has been reported as lost or stolen, if the device has been paid off, and if it is still locked to a specific carrier. The report also notes whether the iCloud Lock has been turned off for Apple phones, which is crucial because, if enabled, you must enter the prior owner's Apple ID and password to set up the phone.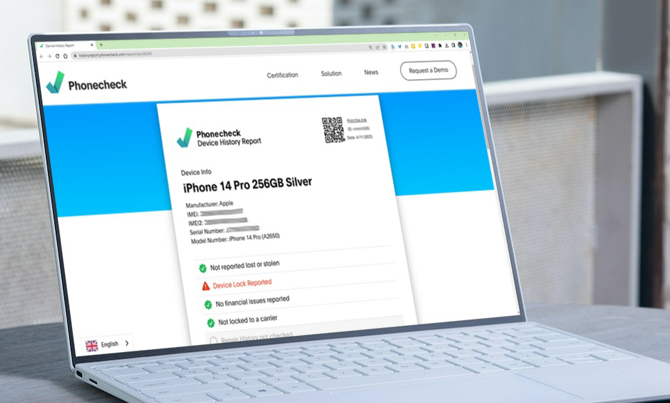 A Phonecheck Device History report costs $4.99. If the seller is unwilling to provide it, you can ask for the IMEI number (it can be viewed by dialing *#06#) and run the check yourself; it's a small price to pay versus the risk of purchasing a device that will be useless when you try to activate it.
[Image credit: Screenshot via Techlicious, laptop on table image via Smartmockups]
For the past 20+ years, Techlicious founder Suzanne Kantra has been exploring and writing about the world's most exciting and important science and technology issues. Prior to Techlicious, Suzanne was the Technology Editor for Martha Stewart Living Omnimedia and the Senior Technology Editor for Popular Science. Suzanne has been featured on CNN, CBS, and NBC.