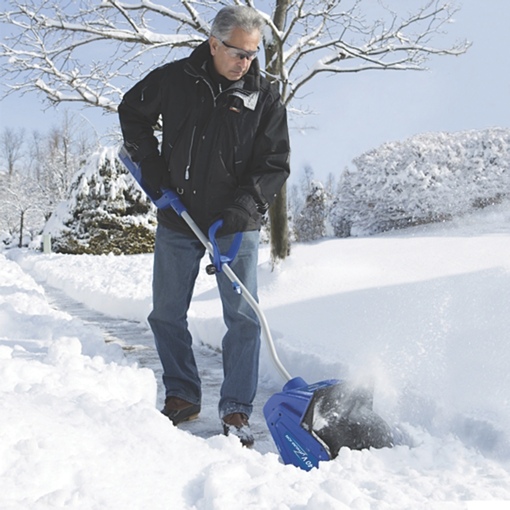 As regular readers of Techlicious may be aware, I recently moved from Southern California back to the Northeast. It's been a bit of a shock to go from 70 degree winter days in the sun to the snowy, icy mess we've been dealing with here over the past few weeks. Snow may look great on Christmas cards, it's a backbreaking hassle when it's blocking your walkway and you don't own a snowblower.
That's why I like the new Rechargeable Snow Shovel from Hammacher Schlemmer. The 500-watt electric shovel has a two-blade paddle auger that throws snow up to 25 feet. It won't make quick work of a long driveway, but it is powerful enough to handle snow 13 inches wide and 6 inches deep. It only weighs 15 pounds, so it's light enough to carry up steps or use on your porch. It's a pretty happy medium between a hand shovel and a snowblower for those of us who are city dwellers.
The shovel has a 6-foot shaft with an adjustable handle so you don't have to be constantly hunched over while using it. And when you're done clearing all that snow, just plug it in to the wall in your garage or basement using the included AC adapter. Three hours of charging provides up to 50 minutes of shoveling.
The Rechargeable Snow Shovel is available for $249.99 at hammacher.com. Note that the item takes 4 to 6 weeks for delivery, so while it's a neat device, it likely won't be much use until next winter unless you live near a Hammacher Schlemmer store. For winter tech you can use this year, check out Techlicious's winter gadget guide.
[Image credit: Hammacher Schlemmer]