If you're a heavy Roku user like my family, you're probably very familiar with the screen saver that pops up when you haven't been watching for a bit. We use the movie-themed comic, which is actually pretty cool when you see it, giving you a chance to catch all the movie references, both popular and obscure. There are hundreds of screensavers to choose from, but after a few dozen times, the novelty wears off of any screensaver and we're left wanting something...different.
Now we're in luck. Today, Roku announced a new feature coming to Roku streaming media players, called Roku Photo Streams, that offers a simple way of using your own photos as the TV screensaver.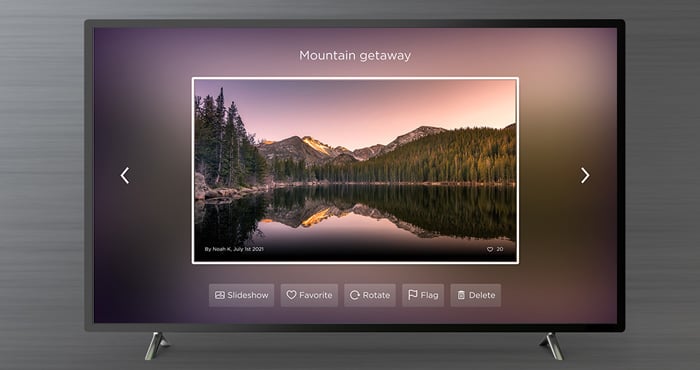 Roku Photo Streams is a feature of Roku OS 11, which will be rolling out over the next weeks. To create a Stream, you upload photos by logging into your Roku account on Roku.com or using the Roku app. Photos are stored in Roku's secure cloud service, and you'll have a limit of 2GB of storage.
In addition to using your Streams to view photos on your own TV, you can share your Streams with friends and family. As you change pictures in a shared Stream, the new images will automatically appear in the Stream on all the shared devices. In addition, anyone who shares the Stream can also upload photos so that you can collaborate on a shared album. Roku says you'll be able to invite others to a Stream by adding the email address that's associated with their Roku account.
At launch, the supported photo file formats will include JPEG, WEBP, PNG, and HEIC, and file size can be up to 20MB each. The pictures will display in their uploaded aspect ratio, so it's a good idea to crop them to look good on your TV screen (the default Photos app on your iPhone or Android phone has a crop tool that you can use to resize them using a wide 16:9 aspect ratio). You can create up to 10 photo streams with up to 100 photos per Stream, giving you plenty of options for mixing things up.
Roku OS 11 will be rolling out to Roku TVs, streaming players, and Streambars. However, not all versions of each player will be updatable to OS 11. Only the following models are supported: 9102X, 9101X, 9100X, 4802X, 4801X, 4800X, 4670X, 4662X, 4661X, 4660X, 4640X, 4630X, 4620X, 4400X, 4230X, 4210X, 4200X, 3941X, 3940X, 3931X, 3930X, 3921X, 3920X, 3910X, 3900X, 3821X, 3820X, 3811X, 3810X, 3800X, 3710X, 3700X, 3600X, 3500X, 2720X, 2710X, 2700X. To check your Roku device's model number, press the "Home" button on your Roku remote, select Settings > System > About.
Your Roku device will automatically check for the update to OS 11 (if you're not sure which OS version you're running, you can check using the same Roku "Home" button, Settings > System > About method as above). You can also manually check for updates by pressing the "Home" button on your Roku remote select Settings > System > System Update.
[Image credit: Roku]
For the past 20+ years, Techlicious founder Suzanne Kantra has been exploring and writing about the world's most exciting and important science and technology issues. Prior to Techlicious, Suzanne was the Technology Editor for Martha Stewart Living Omnimedia and the Senior Technology Editor for Popular Science. Suzanne has been featured on CNN, CBS, and NBC.