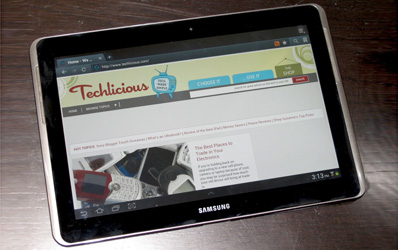 If you're going to challenge Apple's iPad in the tablet market, you better come fully armed. Samsung's new Galaxy Tab 2 10.1- and 7.0-inch tablets fall short of Apple's versions technically, but offer unique features and lower prices.

Conversely, Samsung's 7-inch Galaxy Tab 2 offers a better technological option than Amazon's Kindle Fire but for a higer price.
10.1-inch Tab 2 vs. iPad
Perhaps the most compelling new Tab 2 10.1 was found on last year's 7-inch model—an integrated infrared (IR) transmitter like on a remote control and a pre-installed Smart Remote app, essentially a souped-up universal learning remote control able to learn and control the AV gear from any manufacturer.
But not only can a Tab 2 control all your home theater, but the app learns your viewing preferences. Input your cable company and zip code to get the usual electronic program guide. As you tune in channels and programs, the app learns your TV show likes and dislikes. Soon the app suggests currently airing shows you may be interested in watching, and breaks the program into categories – kids, comedy, drama, etc., to speed your channel surfing.
If you own one of the new Samsung 7000 or 8000 Series LED HDTVs, the Tab 2 can be used as a remote screen via your home Wi-Fi network – whatever is playing on the TV is mirrored on the Tab 2 with around a 3-5 second lag.
Apple offers none of these capabilities – at least not yet; an Apple HDTV is a when, not an if, and will likely blend similar multi-device interoperability.
So how does the Tab 2 10.1, which runs the latest Android OS, Ice Cream Sandwich, compare to the new iPad?
Technically, not well, most obviously the screen. Not that there's anything wrong with Tab 2 10.1's 1280 x 800 WXGA LCD screen, but it doesn't challenge iPad's vaunted 2048 x 1536 pixel Retina display. iPad runs on a 1.5 GHz dual-core processor; Tab 2 10.1 a 1 GHz dual-core engine. And the iPad has a 5MP camera, the Tab 2 a 3MP camera.
But Tab 2 10.1 includes front stereo speakers compared to iPad's single side speaker, HDMI connectivity via an accessory HDMI adapter, and most importantly a built-in microSD card slot to expand its memory and which impacts Tab 2 10.1's price advantage over the new iPad.
With 16 GB of built-in memory, Tab 2 10.1 is priced at $399.99 (pre-sale May 4, available May 13), $99 less than the new iPad. But instead of paying another $100 for another 16 GB of memory as you would for an iPad, you can add 32 GB to the Tab 2 10.1 via a microSD card for around $25.
These improvements don't make Tab 2 10.1 a better tablet than iPad, of course. As in the smartphone battle, Android is more suited to tech DIYs while iOS is more appropriate for tech neophytes.
7-inch Tab 2 vs. Kindle Fire
As with the Tab 2 10.1, the 7.0 also runs on a 1 GHz processor and has the built-in IR transmitter. Like the Fire, the 7-inch Tab 2 features a 1024 x 600 display and includes 8 GB of built-in storage, but adds a microSD card slot which the Fire lacks, and the Tab 2 runs Ice Cream Sandwich.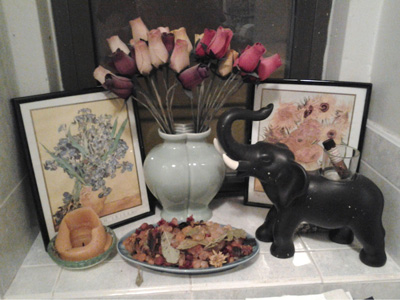 The 7-inch Tab 2 also includes both a front VGA and a rear 3.2 digital camera that takes woeful photos (see sample right).
But Fire's interface runs on top of Android and is designed to consume Amazon content, primarily e-books and e-magazines. Tab 2 7.0 runs Ice Cream Sandwich straight, so is more useful as a general purpose tab, but does include Kobo as a pre-installed e-reader e-book source.
7.0 goes on pre-sale today for $250 ($50 more than Kindle Fire), and will be available April 22.