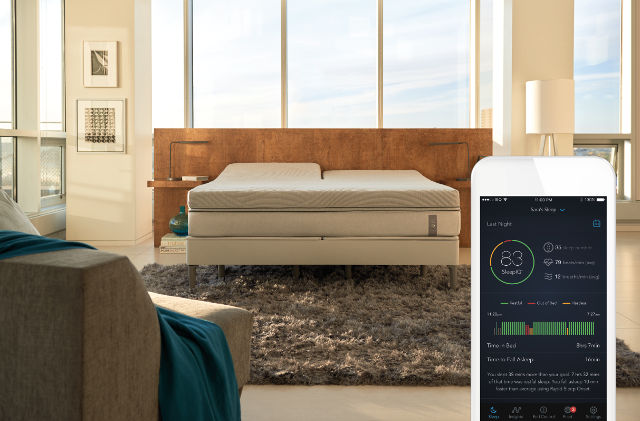 Restful, uninterrupted sleep plays a crucial part in your health and well-being and productivity. Even so, not many people enjoy a good night's sleep these days. The Sleep Number 360 smart bed just might help. Launched at this month's Consumer Electronics Show (CES) in Las Vegas, the Sleep Number 360 smart bed from Select Comfort promises to work all night to give you better sleep.
This smart bed comes equipped with biometric technology that responds as you shift and turn in your sleep. The bed has two air chambers inside the mattress. When you turn to your side, back or stomach, the air chambers adapt to the contour of your new position so you stay more comfortable.
It takes longer to fall asleep when your sheets feel like they've just been pulled from the refrigerator. How about a personal foot warmer? The Sleep Number 360 smart bed automatically warms the foot of the bed right before bedtime to soothe you to sleep more quickly. The company claims people fall asleep faster when their feet are warmed. This foot warmer is embedded right in the mattress.
Besides keeping you warm and cozy, the Sleep Number 360 also helps you and your bedmate sleep more peacefully. Embedded sensors tell the bed to automatically shift your position when they detect snoring. If you begin snoring while sleeping on your back, the base of the bed shifts to elevate your head about seven degrees to temporarily relieve the snoring.
The adjustable settings can also be useful for raising the head of the bed when you want to watch TV or read. You won't need to prop yourself up against the headboard or raise your head with pillows.
The Sleep Number 360 smart bed also helps you wake up at the optimal time. Imagine your alarm clock ringing loudly while you are still in the deep stages of the sleep cycle. You would wake up groggy and disoriented, with about 30 minutes left before your brain begins to naturally "wake up." That kind of grogginess can persist throughout the day. The best time to wake up is the light sleep stage within your usual wake-up window. The Sleep Number 360 smart bed monitors your sleep routine, calculates your ideal wake-up time and sounds your alarm at the right time to help you wake up refreshed, energetic and alert.
The Sleep Number 360 smart bed will be available online and in all Sleep Number stores during the first half of 2017. Pricing will be similar to Sleep Number's current mattresses and adjustable bases.
Looking for more ways to get better sleep? Try decreasing your exposure to blue light at night. Find more help to get a good night's sleep with these sleep-helping 5 gadgets and white noise apps and sites.
[Image credit: Sleep Number]