If you have trouble sleeping because of distracting sounds, research shows that white noise can help. White noise not only helps you fall asleep but improves the quality of your sleep. And during the day, studies show that white noise can reduce anxiety and help you maintain focus while at work.
I have been using a white-noise generator for years, and sometimes even bring it with me when I travel to block out all the annoying noises in my hotel room. But not everyone wants to spend $50 on a noise machine, and even I don't always want to lug one in my suitcase.
A much less expensive solution, and one that is certainly easier for travel, is to use your smartphone as a white noise generator. There are white noise apps that simulate dozens of sounds, from a gentle rain falling to a fan to wind blowing.
Over the years, I've spent untold hours scouring Apple's App Store and Google Play and testing the most highly rated apps to find the perfect white noise app. Check out all three of my picks for the best white noise apps.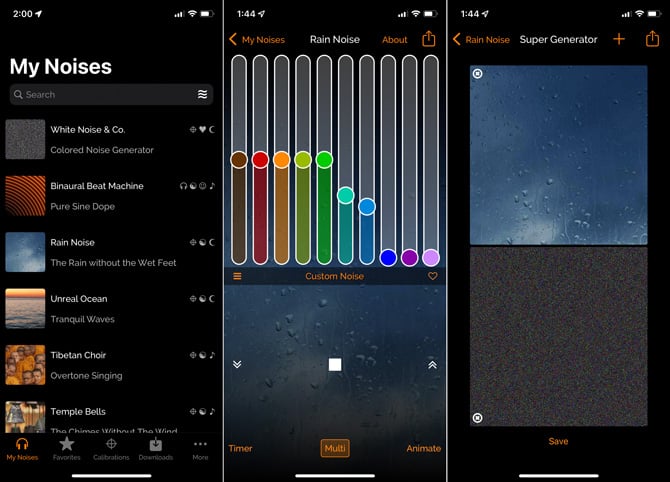 The best white noise app: MyNoise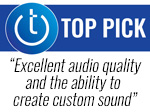 Do you notice that you sleep better when it rains or the wind blows gently through the trees? That's what researchers call pink noise, a combination of sounds that contain all of the frequencies that people can hear, with volume decreasing in high frequencies. This type of pink noise "has significant effect on reducing brain wave complexity and inducing more stable sleep time to improve sleep quality of individuals," according to the Journal of Theoretical Biology study. In comparison, white noise keeps the volume consistent across all frequencies and most people don't find it as restful.
MyNoise is my favorite white noise app because it gives you control over the volume of different frequencies of the sleep sounds so you can get the sound just right. And it doesn't just apply to the white noise generator. You can also tweak other sounds like "Rain Noise," "Unreal Ocean," and the "Binaural Beat Machine" to get just the right kind of noise. Plus, you can mix sounds together, adjusting the frequencies and overall volume, for even more customization. The app is free and comes with 20 free sounds, including a "White Noise & Co." (the white noise sound), "Rain Noise," and "Binaural Beat Machine." Additional sounds are $0.99 each or you can access the whole library of more than 250 sounds for $19.99.
Download MyNoise for free on App Store and get MyNoise for free on Google Play. Additional sounds cost $0.99 each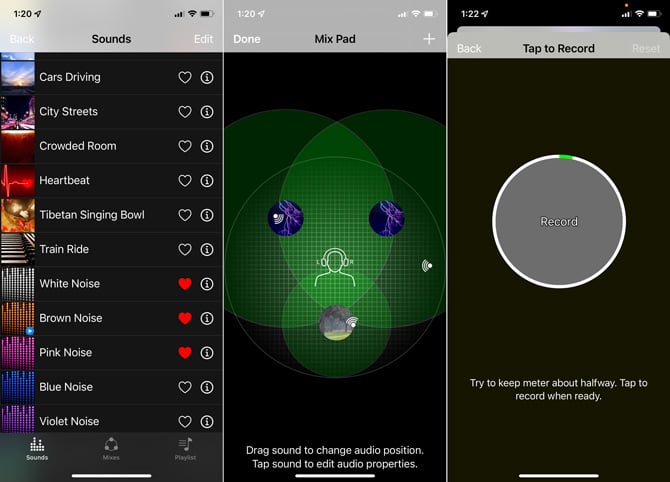 If you want to record your own sounds: White Noise
The White Noise app not only has white noise, but it also has pink noise, brown noise (low-frequency sound masking) and many more soothing sounds. Plus, it gives you great flexibility for painting your own soundscape, mixing up to five sounds at once. Among the 40 sounds are an oscillating fan, cat purring, crickets chirping, water flowing and many more. If that's not enough, you can use the built-in recorder to create your own sounds. If you want to create a truly custom sound that includes your own recordings, White Noise is the app for you. White Noise also lets you set an alarm, so you can wake gradually, and a sleep timer to turn off the sound.
Purchase White Noise on the App Store and White Noise on Google Play for $0.99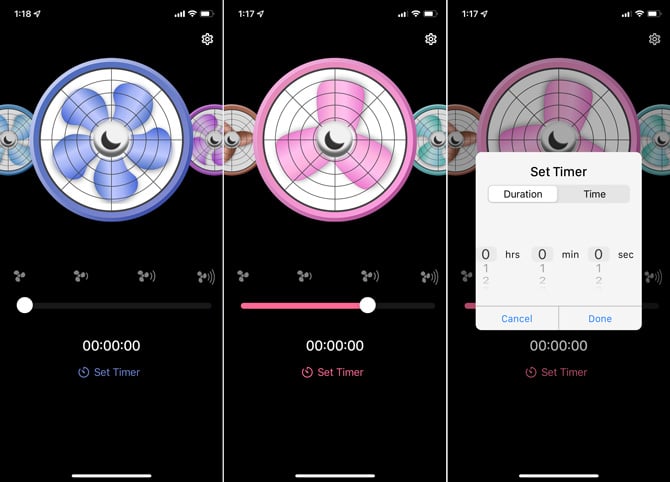 If you want fan sounds: Sleep Aid Fan
Similar to falling rain, the noise of an electric fan also helps many get a better night's sleep. Sleep Aid Fan generates that exact sound for you. You can play a fan sound at low, medium or high speed and also set a time for how long you want the noise to play. Three fan sounds come in the free app, and with the $1.99 upgrade, you receive five more — well worth it if the basic sounds don't work for you. The additional fan sounds offer lower and higher-frequency sounds that mimic brown noise, pink noise and more. If you're looking for an app that replicates your fan noise, I've found that Sleep Aid Fan provides the best selection of high-quality fan recordings.
Download Sleep Aid Fan from the Apple App Store or get the Sleep Aid Fan app on Google Play for free (we highly recommend the $1.99 upgrade)
Updated 2/9/2022
[woman sleeping image via Shutterstock]
For the past 20+ years, Techlicious founder Suzanne Kantra has been exploring and writing about the world's most exciting and important science and technology issues. Prior to Techlicious, Suzanne was the Technology Editor for Martha Stewart Living Omnimedia and the Senior Technology Editor for Popular Science. Suzanne has been featured on CNN, CBS, and NBC.