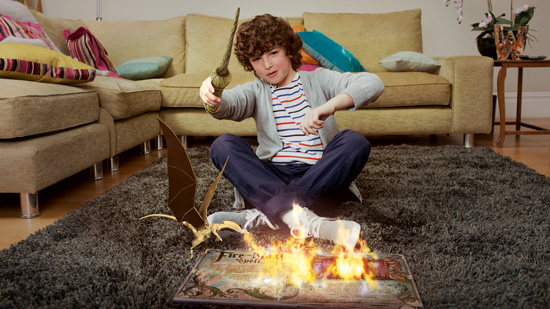 Sony introduced its innovative Wonderbook, which brings books to life with the magic of augmented reality and a PlayStation 3 peripheral wand. The first Wonderbook, Book of Spells in collaboration with J.K. Rowling, meshes new and original stories from the famed Harry Potter series author, with interactive gaming elements to usher in the next frontier of reading.
Wonderbook: Book of Spells magically comes to life as you read, allowing kids to cast spells with their PlayStation Eye Camera and Move Motion Controller, which becomes their own magic wand. Here's how it works: kids actually sit down with the Wonderbook in their living room, and watch the TV screen to see images and animations they can't see looking down at the book itself. Kids can then interact with the images and animations using the magic wand.
Kids – or let's face it, adults too! - can go on a fantastic journey reading and learning the secrets of wizardry and the history of 20 different spells, as if a student at Hogwarts. This would be a fantastic gift to follow a trip to the Wizarding World of Harry Potter at Universal Orlando. After we returned from our visit there last year, we had to explain to my son that the wand we bought at Ollivander's Wand Shop would only work in the Wizarding World. This Wonderbook: Book of Spells educational peripheral would be a great way to bring the spellbinding magic into your home.
Wonderbook: Book of Spells will be available in the U.S. in December 2012, and is expected to cost $39.99 for the Wonderbook. This is the first product to launch out of the partnership between Sony and Pottermore, J.K. Rowling's website based on the Harry Potter books. We can't wait to see the other Wonderbooks in development.