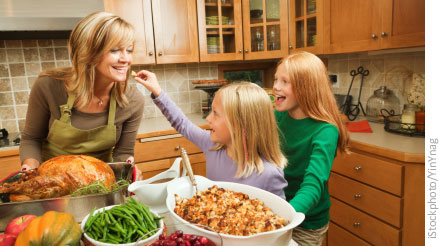 Thanksgiving is almost here, and this year we're doing things a little bit differently. Usually, I head out with my husband and kids to my mother-in-law's house in Chicago for our big, extended family meal. This year, the family is coming to us.
Since we'll be the ones in the kitchen, I've been looking into the best ways to prepare the traditional holiday meal. I'm not a fan of dry, tasteless turkey (is anyone?) and have vowed not to serve it to my guests. There are various schools of thought on what the best way is to cook a turkey: roasting, deep-frying, or infrared cooking. Each can produce great results if done properly and if you have the right tools.
If you're roasting your bird, it's critical that you cook it to the correct temperature. Undercooking the turkey can be dangerous, while overcooking can make it inedibly dry. The FDA recommends cooking turkey to an internal temperature of 165 degrees. Most chefs recommend pulling your turkey out of the oven when it's about 5-10 degrees cooler – the temperature in the interior will continue to rise from the residual heat.
The challenge for many cooks is getting that temperature right. Forget about relying on the little plastic thing that comes stuck in some birds. You have no idea at what temperature it is set to pop or if it will work reliably. And it only measures the temperature in one spot, usually the breast. Instead, invest in one of these far more functional thermometers: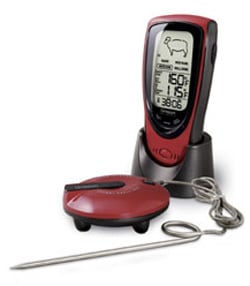 The Oregon Scientific Grill Right Wireless Talking Thermometer ($59.95) lets you enjoy your party while keeping track of your turkey. The wireless portable unit features an LCD screen and can be used up to 330 feet from the probe. It even provides spoken alerts for when "It's almost done" and "It's done".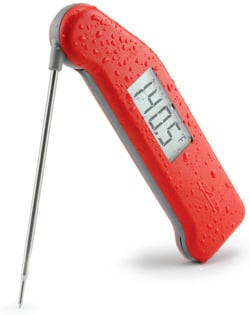 The ThermoWorks Thermapen ($89.00) is the choice of professional chefs everywhere for its quick read time (less than 3 seconds), accuracy (±0.7°F) and wide temperature range (-58.0 to 572.0°F). The long, probe makes it easy to get a temperature reading deep inside your turkey. This is the thermometer I have in my kitchen.
If you're ready to move on from roasting, many people swear by deep-frying a turkey for super-crisp skin and juicy meat. But the traditional method of heating a large container of oil over an exposed propane flame is both costly (most units require 3-5 gallons of peanut oil) and has led to more than one patio burning to the ground. And if you're in a northern clime, you may want an option that doesn't require standing outside in sub-freezing temperatures.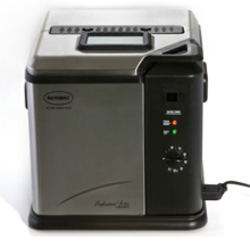 The Masterbuilt Butterball Professional Series Indoor Electric Turkey Fryer ($179.95) does away with the propane, so you can cook safely in the comfort of your kitchen. It can handle turkeys up to 14 pounds, and only takes 4 minutes per pound to cook. You can use it as a standard deep-fryer post-turkey day to fry anything your heart desires (and your arteries can handle).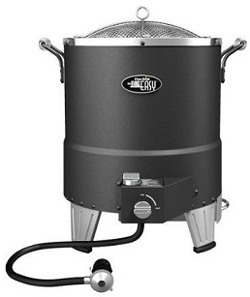 If you want to get similar results without the oil, the Char-Broil Big Easy Infrared Turkey Fryer ($99.99) uses infrared heat to quickly and evenly cook turkeys of up to 16 pounds, in about 8-10 minutes per pound. You save the money and mess associated with oil deep-frying, and you can even collect the cooking juices for gravy. It is propane powered, so needs to be used outside; but, without oil, it's far safer.
The standard Thanksgiving sides of stuffing and cranberry sauce are fine, but I'm looking to branch out this year. So I'm pulling recipes from a bunch of different sites and organizing them in ZipList. ZipList.com is a free site that lets me save recipes from dozens of websites – including Epicurious, Food Network, and Rachael Ray – into a single recipe box. And then will create a shopping list for me based on the recipes I've chosen. iPad and Android versions of ZipList are available for accessing my list while at the store.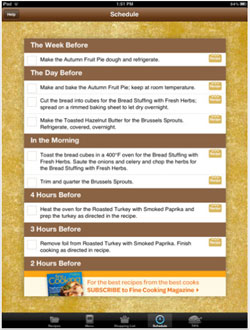 First timers will also appreciate the Thanksgiving Menu Maker iPad app (Free) from Fine Cooking. The app has more than 75 recipes, customized shopping lists and a schedule planner to keep your holiday preparations on track. There are also how-to videos and turkey cooking tips, along with suggested wine pairing and seasonal cocktails. With all this planning, I could use one of those cocktails right now!