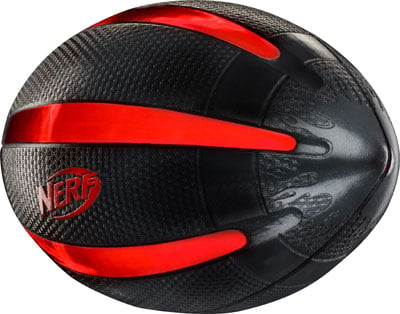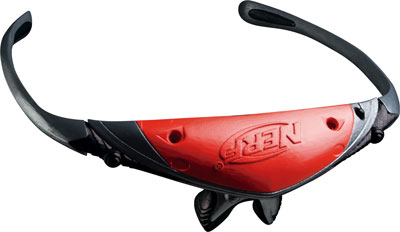 Nerf, CitiBlocs and Activision have added glow in the dark or light-up technology, a cool new feature that ups the "wow" factor for already popular toys.
NERF Firevision
NERF Firevision takes football, basketball and baseball to a whole new level with their illuminating technology. For kids (and adults) willing to brave evening mosquitos to continue playing ball after it gets dark, then NERF Firevision will be a must buy. When you put on special NERF Sports Frame glasses, you can see the Firevision balls glow in the dark. You can even customize the ball to glow red or green to correspond with each team's colors.
NERF will release three products in this line in 2012; the Firevision Football, and the NERFOOP Basketball Set which can also be used indoors and hangs over most doors (NERF recommends a dark room to really see the backboard and the basketball glow in the dark). The Hyper Bounce Ball can be used indoors or out, and glows in red or green making it easy to play catch in the dark.
NERF Firevision is recommended for ages 6+, and will be in stores August 2012. The Firevision Football will retail for $19.99 and comes with two pairs of Firevision Glasses, the NERFOOP Basketball Set will retail for $14.99 and comes with one mini NERF Firevision basketball and one pair of Firevision Sports Frames, and the Hyper Bounce Ball will retail for $9.99 and includes one ball and one pair of frames. If you need to replace or buy more Firevision Sports Frames, they'll be available individually for $5.99.
CitiBlocs
CitiBlocs are eco-friendly building blocks that have just launched a new glow-in-the-dark set for 2012. The glow-in-the-dark set includes 100 pieces: 70 glow-in-the-dark and 30 natural blocks.This will be fun for building in a living room fort, tent or even after bedtime lights-out.
Price: $29.99 on Amazon.com
Next Gen Skylanders
Skylanders was one of the hottest gifts this past holiday season, bringing a whole new class of toys to the market mixing the online world with the physical world. While each Skylander is pretty cool on its own, they're about to get a little cooler.
Starting with the release of new characters that can be played in the game, the team at Activision and Toys for Bob came up with a way to make the Skylanders glow when you place them on the Portal of Power. The Skylanders folks call it "LightForce" and no batteries are required, all you have to do is bring the Skylander close to the portal to make its "elemental core" light up. This added feature makes the Skylanders characters seem more lifelike as they "come to life" near the "Portal of Power."