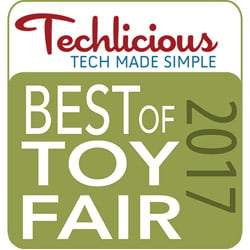 Companies from around the world converged on New York City at this year's Toy Fair to showcase all the hot toys coming out this year.
Among all the plush animals, dolls, actions figures, bikes, board games and foam weaponry, we found a ton of great tech toys.
These are the ten toys that made our list for Best of Toy Fair Awards 2017.
Cra-Z-Art BeatMoovz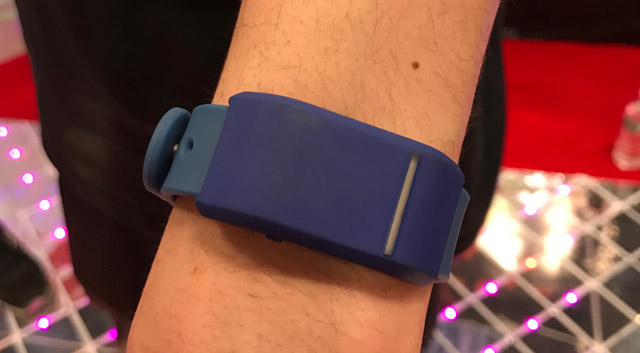 Rather than simply dancing to the music, why not MAKE music while dancing. That's the idea behind BeatMoovz, a wearable motion-activated band that plays musical sounds and special effects you control with your movements.
Each BeatMoovz pack contains two bands that can be worn on your wrist or ankle. Pair the band to your smartphone via Bluetooth and assign it a sound using the BeatMoovz app. The app comes with 400 sounds built-in or you can add you own.
Now the excitement begins; start moving your body and create your own music. The motion-detector in the bands sense when you move your arm or leg, immediately playing the paired sound through any speaker connected with your phone. Up to seven bands can be paired to the app for fun with friends (or for those with extra limbs). Pair a bunch of bands, phones and speakers and you've got a whole nightclub full of sound!
Price: $59 for two bands
Availability: Summer 2017
---
Fisher-Price Think & Learn Smart Cycle

Preschoolers are always on the move. The new Fisher-Price Think & Learn Smart Cycle give them the chance to burn off that extra energy while also learning reading, math and science. What more could a child (or parent) ask for?
The Think & Learn Smart Cycle is modeled on a stationary tricycle that syncs to companion Smart Cycle apps on your iOS or Android tablet, or through Apple TV, Amazon Fire TV and Google TV. The game-based app content changes when your preschooler pedals faster or slower, forward or reverse, or steers the handlebars – engaging kids fully in the learning process.
The Smart Cycle includes the Mission to Tech City app, with a literacy curriculum. Additional apps are $4.99 each and include titles such as Shimmer and Shine (math), Blaze and the Monster Machines (STEM) and SpongeBob SquarePants (science and social studies).
Price: $149
Availability: Summer 2017
---
Hasbro FurReal Makers Proto Max

Hasbro is known for their incredibly life-like animatronic pets and now, with the FurReal Makers Proto Max Pet, each pet can have its own personality, while also teaching kids the basics of coding.
Kids assemble their pet and then use the accompanying app (available for Android and iOS) to create custom movements and responses to their interactions. The app uses drag-and-drop block coding, which makes it easy to assign responses to each sensor. There are more than 400 sound and 100 eye animations to choose from, as well as lights and motion. Once a routine has been coded, it can be saved and assigned to any sensor. There are tutorials and starter challenges to get kids started and then they can go to town making Proto Max truly their own creation.
Price: $119
Availability: Fall 2017
---
KD Interactive Aura
Usually, flying a drone requires mastering a dual-stick remote control – not something that's easy for younger kids (or even some adults!). So KD Interactive partnered with LocoRobo to develop a wearable glove controller that completely replaces the traditional remote control. Now, simple hand gestures make the drone climb, fly and roll. And to make things even easier, the drone will automatically take off and hover at four feet, awaiting your command. The Aura is truly a drone anyone can pilot.
Price: $99
Availability: Fall 2017
---
K'nex IMAGINE: Rotokontrol RC Building System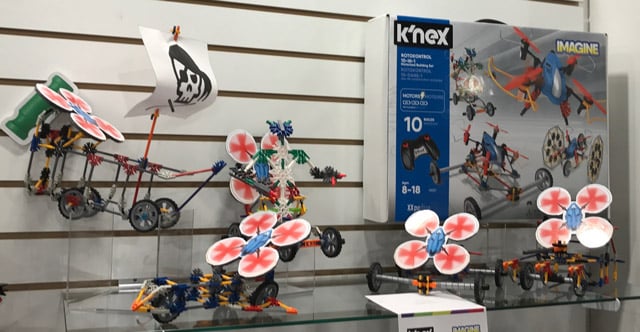 K'nex just made drones 10x more fun with the Rotokontrol RC Building system. The new building set contains a standard, 4-rotor remote control drone, along with a base and tether that will help you learn how to fly. But that's just where the fun begins. The Rotokontrol system contains additional pieces that will let you build 10 other vehicles – a tank, car, pirate ship and more – all powered by the same drone.
Because the Rotokontrol RC Building System is compatible with other K'nex systems, the only limit to what you can build and power is your own imagination.
Price: $119
Availability: Fall 2017
---
Lego Boost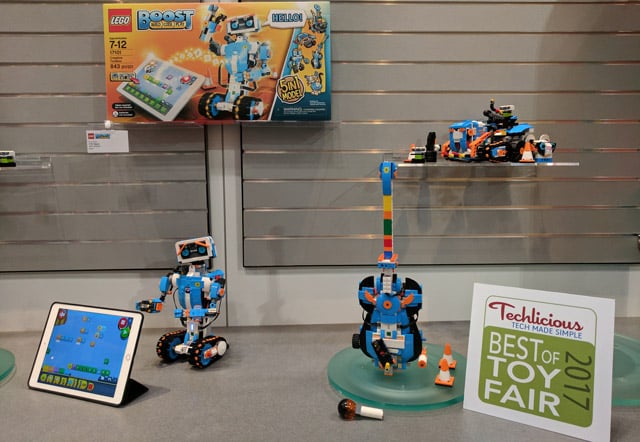 Coding toys can be complex for young kids. But Lego has found the perfect balance between learning and fun with Lego Boost. Instead of requiring a full build before kids can play with their models, Lego Boost has broken up the process into stages. So, kids can code and play with their models along the way.
When building with an ordinary Lego set, your kids stack one brick on the other until they've built a castle or spaceship. Boost teaches coding in that same one-brick-after-another way. Using an app (for Android and iOS), kids drag and drop code blocks, which can combine to make their Lego creations act in different ways.
The Boost set includes three smart Boost bricks (a hub, a sensor and a motor), 843 Lego elements and a playmat that works in tandem with the app to create challenges for your child's robotic creations. The set includes instructions for building five different Boost creatures — but, as with any Lego set, your kids can have just as much fun letting their imaginations run wild.
Price: 159
Availability: Summer 2017
---
Nabi Aristotle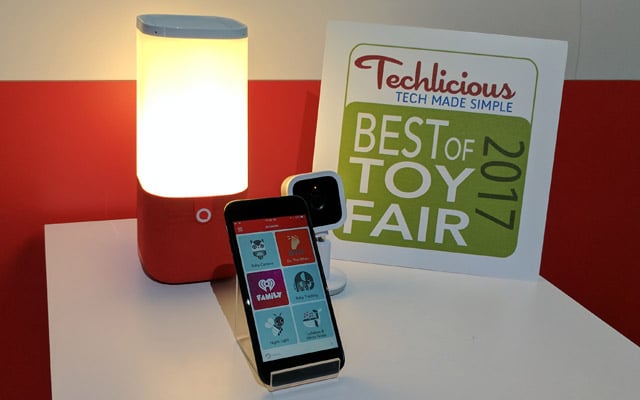 The Nabi Aristotle is a smart assistant that's uniquely designed to grow with families from the day baby comes home through their high school years. It's a baby monitor, Bluetooth speaker with digital assistant, smart light, Wi-Fi camera and sound machine all in one.
For new parents, the Aristotle helps track diaper changes (and will even remind you when you're running low and put in a new order through Amazon), keeps an eye on baby (with the included Wi-Fi camera), plays lullabies and serves as a night light. As your child matures, Aristotle will read stories, play games, tech language lesson and even help with homework. Older kids will love playing music through Nabi using Spotify or their own music libraries.
Price: $299
Availability: Summer 2017
---
Spin Master LuvaBella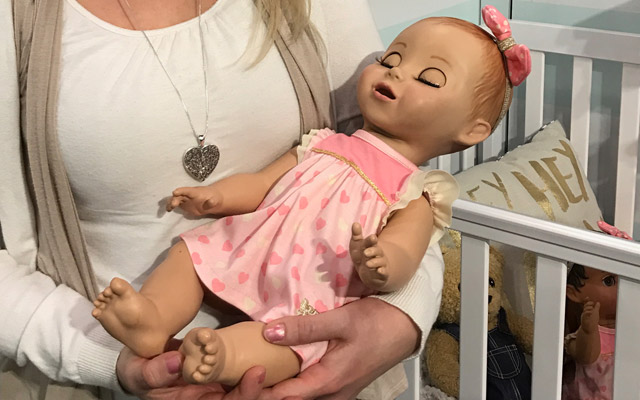 There's no shortage of animated dolls, but Spin Master sets a new bar with its Luvabella. The doll has the most expressive face we've seen, making her reactions incredibly life-like. Her mouth will pucker when she sucks on her bottle, she'll smile in delight when playing peek-a-boo and she'll even give a heart-tugging cry when she awakes. Fortunately, tickling her tummy and toes, brings her around in no time.
Spin Master also made sure that LuvaBella has varied reactions each time you interact with her. So, if you shade her eyes to play peek-a-boo, she may giggle one time and have a bigger reaction the next. Keeping play time engaging and fun.
Price: $99
Availability: Spring 2017
---
Tomy Lightseekers

Several years ago, we saw the first convergence of action figures and games with Activision's Skylanders franchise and Disney Infinity. But kids didn't actually play with the action figures while playing the game. With Tomy Lightseekers they can.
Lightseekers falls into the action adventure role playing category, which means there will be quests, fights, races and more. The action figures have a two-way connection via Bluetooth to your tablet, so they can show the health of the character and tell the game when you've added weapons. But what really impressed us was that the figures could actually be used as game controllers. Attach a set of wings to a character and you can pick up the character to fly it in the game, dipping and twisting your way through the environment.
If that weren't enough, Lightseekers is also a trading card game. You can scan any card to make the object or character come to life within the game.
And, to give you a taste of the Lightseekers world, you can download and play the game for free without any action figures or cards.
Price: $69
Availability: Summer 2017
---
Vtech Smart Communicator

Every kids wants a smartphone and now you can give them one that's kid-safe, the VTech Smart Communicator. It has the look and feel of a smartphone, but is built kid-tough and loaded with kid-smart apps. The Communicator has a shatter-resistant 5-inch display and is built for play with its soft bumpers and shock-absorbing housing.
The Android-based Communicator comes with 40 preloaded age-appropriate games, a kid-safe web browser and a private messaging app. The messaging app lets kids send texts, voice messages, photos, drawings and animated stickers only to people that have been approved by their parents. The Communicator is Wi-Fi only and can't make calls. Though since it's Android-based, you can add apps through the Amazon Appstore, including Skype and other calling apps.
Price: $99
Availability: Fall 2017
Contributors:Suzanne Kantra and Josh Kirschner
[image credits: Techlicious, video credit: Ryan Greene/Techlicious]