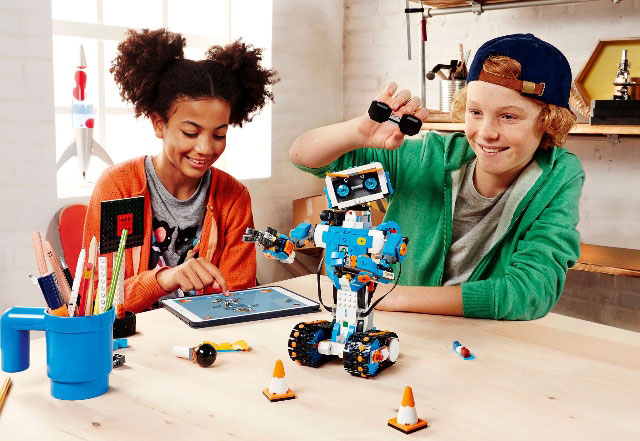 Lego has been making toys that inspire kids — and let's be honest, adults — to create and build since 1949. But while these colorful bricks can teach surprisingly practical engineering skills, the latest trend in toys is teaching coding skills. You can now find toys for kids as young as 3 that teach the basic logic skills that will help them understand more complicated coding later.
Lego embraced this trend a long time ago with Lego Mindstorms, which hit the market in 1998 in a brick set that lets kids ages 8 and up build and program their own robots. Now, Lego Boost adds a new coding toy to the Lego lineup. While Mindstorms are designed to help kids build specific robots (though like any Legos, kids can use them to make almost anything), Boost is designed to bring any Lego creation to life.
It's all about "boosting" ordinary Legos to the next level. The Boost system is powered by the Move Hub, a brick with a tilt sensor kids can build on. Add motors to make creations move. A sensor that detects color and distance lets a Lego Boost project tell things like when the lights are on or off. And it wouldn't be Lego without the ability to pile on bricks to create strange and wonderful things.
Once the physical building is done, it's time for the digital building to begin. The Lego Boost app (for Android and iOS) walks kids through coding basis. Kids link together instructions much like they connect Lego bricks to create complex behaviors. With more than 60 activities to inspire your child, there's a lot of fun to be had.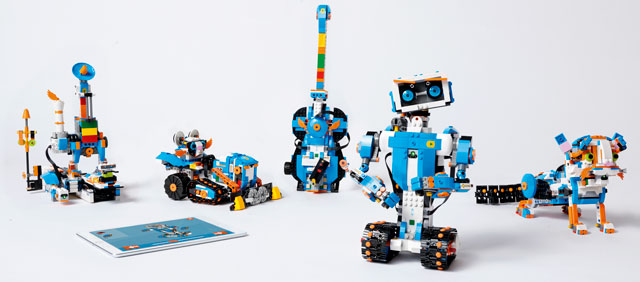 The basic Boost kit includes three Boost bricks (a hub, a color and distance sensor, and a motor), 843 additional Lego elements, and a playmat that works with the app to challenge your child's robotic creations to perform tasks. Instructions are included for five different Boost creatures, Vernie the Robot, Frankie the Cat, the Guitar 4000, the Multi-Tool Rover 4 and the Autobuilder. Instructions cover simple base models that walk or drive, so your child gets a head start on making something completely unique.
Lego Boost is designed for kids ages 7 and up. It will be available in the second half of 2017 for $159.99.