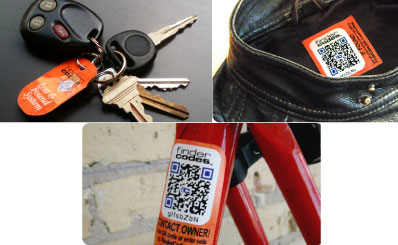 Every so often a report pops up in the news regarding some honest soul who finds something valuable and goes to the trouble of tracking down the owner to return the item. There's a reason the media gloms onto these stories—they make us feel all warm and fuzzy and restore our faith in humanity.
But think about what will happen if your stuff goes missing. What if you lose your expensive smartphone or high-end camera? What if your precious dog disappears, your kid's expensive hockey gear grows legs and vanishes or you leave your iPad tucked into an airplane seat pocket? Think whoever finds these things will try to get them back into your hands?
Now there's a new service that makes it easy for them to do it.
FinderCodes, a company that makes smart ID tags, is now using FedEx's Pack and Return service to offer Re-TurnIt, an automatic return shipping service for its users.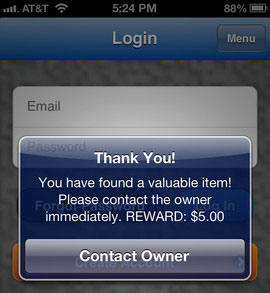 FinderCodes tags include a QR code and can be hooked or adhered onto whatever valuable item you're afraid you might lose. For each tag you can associate your contact information and, if you choose, a reward.
If someone finds your item he or she can scan the tag with a smartphone or tablet and any QR code app or the FinderCodes app (free on iTunes and Google Play). You can also input the code onto the FinderCodes website. Doing so puts the person in touch with you anonymously.
You're notified via email or text message as soon as someone performs a scan and FinderCodes gives the finder directions to the nearest FedEx store where they can drop off the item.
The owner then uses his or her FinderCodes account to get shipping and delivery estimates and pay for the item's return. As soon as it ships you receive another email or text letting you know your lost thing is on its way home.
You can get a FinderCode kit online or at Office Depot for $25 and they come in several different product lines. Depending on what you're going to attach them to, the tags come in adhesive, key-ring and iron-on formats so you can use them with almost anything.