No one goes to a big-name concert in an arena or stadium to listen to music. We go to experience the music. We accept this concert listening versus experiential listening trade-off because we know our seats won't be exactly front-and-center, that it's taking place in an acoustically-challenged venue that won't remind anyone of Carnegie Hall, and that the venue will be equipped with sound systems more concerned with pounding out thunderous, ear-splitting volume to reach the outermost seats than delivering a truly satisfying music experience. But THX and an upstart start-up called Mixhalo want to make concert going less of a listening v. experience trade-off by showcasing the actual musical aspect of a live show. And you can experience their solutions at the Aerosmith's "Deuces Are Wild" residence at the MGM Park Theater in Las Vegas, which returns for a new set of dates starting September 21.
THX and Mixhalo are working opposite sides of the music delivery street. THX, working with Aerosmith show producer Steve Dixon, partnered with speaker maker L-Acoustics and its Immersive Hyperreal Sound to create what the company calls "the world's first immersive THX Certified live entertainment experience," so that "concert-goers were able to experience sound improvements such as a wider sweet spot (more consistent coverage), improvement to vocal quality playback (speech intelligibility, articulation, etc.), and a more consistent frequency response and SPL uniformity throughout the venue."
More practically, Dixon claims his THX set-up places 75 percent of the audience in the sweet spot. THX accomplishes this wide soundstage at the MGM Park by quadrupling the number of speakers in the theater from 60 to a seemingly ridiculous 230. But Dixon explains this quadrupled speaker placement isn't about volume, but rather spatial placement and angle to make sure more attendees can enjoy great listening experience, even if you're off to the side. (If you decide to attend the show, the best seats acoustically at twentieth row center, rather that the typical seventh row center.)
To test out THX's claims, I attended one of Aerosmith's shows [disclosure: my trip was paid for by THX]. Sure enough, walking around the MGM Park Theater, Steve Tyler's vocals seemed to follow me around the arena, but the band's soundstage remained mostly consistently wide – and, of course, LOUD.
But what about the folks on the extreme wings, up in the nose-bleeds, or those who might be a bit more sensitive to concert volume pumped up and out to an ear-buzz-inducing 11? That's where Mixhalo comes in with a personal listening solution.
Personal Concert Listening
Founded by Mike Einziger, the lead guitarist for heavy metal band Incubus in 2017, Mixhalo was created to bring an audiophile experience to concerts. Mixhalo is a three-part system: a proprietary server, a custom Wi-Fi network, and a mobile smartphone app. Live event organizers connect the Mixhalo server to the venue's or band's sound mixer or PA system. You download the Mixhalo or a Mixhalo-enabled venue app to your smartphone that connects your smartphone to Mixhalo's Wi-Fi network. Through your own headphones, you hear the music just as it's coming through the sound or mixing board – no crowd noise, no venue echoes, no speaker distortion, no distorted soundstage caused by sitting way left or way right, no neighboring fans screeching an off-key version of your previously favorite tunes into your ears. Best of all, not only do you get a studio-quality audio experience, you can control the concert volume so you can listen comfortably and avoid the inevitable post-show ear buzz.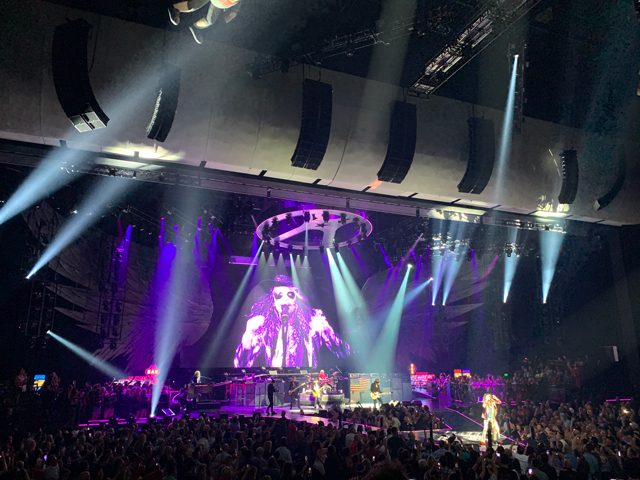 Surprisingly, wearing earphones doesn't isolate you from the crowd or interfere with the "you are there" live concert experience. At the Aerosmith show, I could still "hear" and "feel" the hall, the crowd noise, the presence, the ambience, the thrill of being there excitement. Except now I could enjoy the quality of the music, which made the whole concert experience more enveloping and inclusive, not less.
Mixhalo can deliver up to 200 channels of sound, which means you can get more than just the pure sound board mix. At the Aerosmith show, where VIP ticket buyers are lent an Apple iPod loaded with the Mixhalo app and are given (to keep) a pair of THX Certified 1MORE Triple Driver in-ear headphones ($80 on iMore), you can choose instead to listen to the special instrumental mix Steven Tyler hears through his in-ear monitors.
In addition to Aerosmith's MGM Park Theater residency, Mixhalo supplied concert-goers at San Francisco's Outside Lands Festival and the Dirty Heads/311 show at the North Island Credit Union Amphitheatre in Chula Vista, CA, earlier this month as part of its continuing trial process, with more installations to come. Mixhalo, which just received a new infusion of investment capital, is exploring other live event venues, such as sports, to supply accompanying radio or TV feeds, outdoor events, Broadway and movie theaters, or any live event for which delivering clear audio to all assembled is a challenge. THX and Mixhalo continue to work both with each other and separately with the promise to bring their enhanced concert audio technologies to a live event venue or act near you.
[Image credit: Stewart Wolpin/Techlicious]