Techlicious has always been impressed with the designs that come from high-end radio manufacturer Tivoli Audio, like the Model 10 clock radio. The company's latest offering, the new Albergo wireless music system introduced today, a Bluetooth clock radio with multiple designer housings perfect for even the most elegant of bedrooms.
The $249.99 Albergo performs all your home audio clock radio duties and then some – it has an AM/FM radio, clock alarm settings and a sleep timer. A 3" full range, long-throw driver rocks killer sound out of a 4.4" H x 7.4" W x 4.3" D machine. Best of all, the Albergo trades easily outdated external audio ports for a one-touch button Bluetooth pairing feature.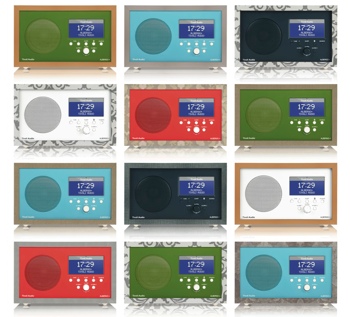 The Albergo was designed for use in luxury hotels, so Tivoli has put a lot of effort into future proofing and keeping it from being a tech eyesore. To that end, the company has made available optional hand-made Italian wood veneer and fabric cabinets that slide over the radio as part of its Albergo Custom Cabinet Program. The twelve designer finishes include options like cherry and walnut wood, tweed, canvas and brown leather, and are priced between $60-$100.
Obviously, $250 is a lot to spend on a clock radio – the Albergo's definitely not for everybody. But if you have a high-end designer bedroom, paying a little bit extra for a high-end designer clock radio shouldn't be out of the question.
The Tivoli Albergo comes with a remote control and is available in white, graphite, glossy red, glossy blue and glossy green colors at tivoliaudio.com. An optional stereo speaker ($124.99) is also available.
To get a better look at the Albergo, watch the short promotional video below.
5/19/2014: Updated with correct pricing.