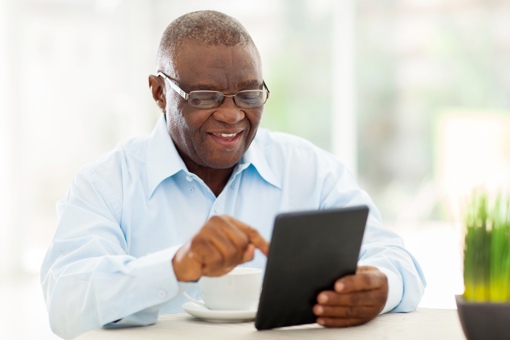 Computer monitors and other digital screens have long been associated with eye problems. Earlier this year, a poll by Vision Council revealed that 70% of Americans report suffering from digital eyestrain. Doctors, meanwhile, are saying that our obsession with smartphones has caused a 35% increase in advancing myopia. And experts say our tech-related eye problems will only be getting worse as time goes on.
Soon, though, your smartphone or tablet could be helping to correct these types of vision problems. According to Scientific American, researchers at Stanford University and the Massachusetts Institute of Technology are developing a screen that automatically accounts for and cancels out any eye-related problems. The screen would help those with myopia, hyperopia and astigmatism, among other problems.
To work, the technology requires special software that knows your eye prescription and can calculate the distance you're holding the screen from your face. An inexpensive overlay with tiny pinholes is then placed over the screen. Together, the software and pinhole overlay create the desired effect: a crisp, clear image for anyone who uses the screen, at any distance with no eyeglasses required. Researchers envision a final version where a slider is used to manually adjust the focus, allowing a single tablet to accommodate multiple viewers of different visual acuity.
The tech currently works in its prototype form, but more research is needed to perfect these prescription tablet screens for commercial use. Once perfected, the screens would be an enormous boon to those in the developing world that have greater access to mobile phones than they do eye doctors.
For more on this very cool (and smart!) technology, check out the full story at Scientific American.
[Man with glasses using tablet via Shutterstock]