As witnessed by this year's CES 2018 announcements from kitchen and bath fixture companies, Delta, KOHLER and Moen, everything that is turned on and off will soon be controllable by voice command. We talking about faucets, baths, showers and toilets. Even the walls will have ears, so you'll need only walk into a room and speak your smart home command.
Last year, we saw the beginnings of voice control in the kitchen, with LG's Smart InstaView refrigerator that has Alexa built-in. With it, you could set timers, add items to a shopping list, listen to recipes, and turn off the lights in the living room. Samsung has since come out with its own voice assistant, Bixby, which is available on Galaxy 8 phones and will soon be added to the Family Hub refrigerator and will control Samsung stoves, ovens and all Samsung SmartThings.
With this year's announcements of voice-controlled kitchen and bath fixtures, we creep ever closer to having the Jetson's automated home. As we wake up, we can have our mirror tell us the weather, news and traffic for our commute. The shower can be started and warmed to the temperature you like by asking for your morning preset. The toilet flushes automatically. Tell your mirror to switch to office lighting to make sure your makeup application is optimized for work. Then start your coffee maker.
Going into the kitchen, your coffee is brewed and awaits you. Drop a pot in the sink and ask the faucet to fill it up while you grab the eggs out of the refrigerator and turn on the stove with a voice command. Check out the new breakfast recipe on your Kitchen Hub exhaust hood's screen. Then using Alexa in your refrigerator, start up your car as you get ready to leave the house.
For every room
iDevices Instinct Light Switch

With the Instinct Light Switch, users no longer need to put an Echo speaker or another Alexa-enabled device on the counter to get home control. Alexa is built right into this light switch. Replace your current wall light switch with the Insight and talk to the wall to use home control. A blue ring lights up to let you know Alexa is ready to take your command. Premium sound by Soen Audio—from the makers of JBL and Harmon/Kardon sound systems—plays music, podcasts, read recipes and more directly from the wall switch. The Instinct also has a motion and light sensor for automating lights and receiving custom alerts for energy saving and security. The lights can turn on and off when you enter or exit a room, and the Instinct can send your phone notifications if someone enters the room.
The Instinct controls iDevice Smart Home Solution devices and Alexa-enabled products. Its lighting functions can be controlled via the iDevices Connected smartphone app, Siri or the Google Assistant.
In the Bathroom
Alexa-enabled Kohler Verdera Voice Lighted Mirror

"Mirror, mirror on the wall..." While the Alexa-enabled Verdera Voice Lighted Mirror may not be able to tell you who is the "fairest of them all," it is a smart mirror that can control your whole bathroom as well as turn on the bedroom lights, change the thermostat and perform any other smart home or Alexa functions. The Verdera mirror is part of Kohler's smart home product line, Kohler Konnect, that allows you to control the sink, shower, bath and toilet. Similar to what you might find in a public restroom, the sink and toilet can be motion-controlled.
The Verdera mirror has LED lights for applying makeup and grooming and a motion-activated "wayfinding" nightlight. Dual microphones and speakers are hermetically sealed to protect the electronics and to maximize stereo quality.
The Verdera mirror will be available March 2018.
Voice Activated Showers and Bath
While shower controls have been available over the past year, at CES 2018, announcements were made by KOHLER and Moen about adding voice control to their newest models. Shower control is not only handy to start and warm up the shower but can also aid in saving water.
U by Moen Shower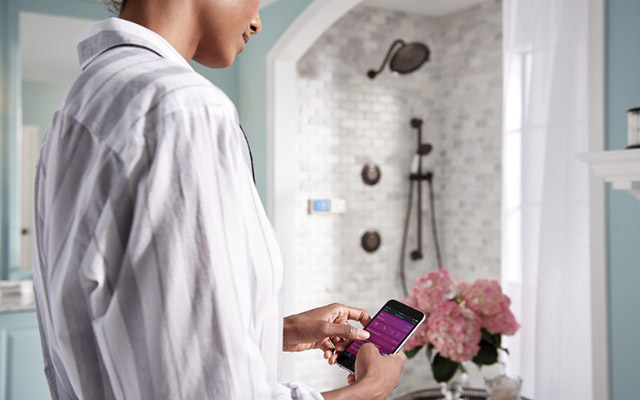 The U by Moen shower will be voice activated by both Siri on your phone using the Apple HomeKit, and Alexa controls. The Moen shower can work with up to four shower devices—showerheads, hand showers, body sprays, etc—for the exact type of shower you like. Remotely start the shower using your voice. As the water heats up, a panel indicates the temperature by changing color. Once it reaches your desired temperature, it can pause, saving water until you are ready to enter. If you like different settings for your morning shower than your after-workout shower, you can create presets for handy access to specific temperature and spray preferences.
Kohler DTV+ Showering System with Kohler Konnect

Anyone who has ever struggled to get the right massage flow from a showerhead can appreciate the idea that we can just tell it what we want without fiddling and dialing it in. The Kohler DTV+ Showering system, which is currently controlled with the Konnect app or a touchscreen controller, can be upgraded to react to voice commands. Adjust water temperature, control showerheads and water spray, change music, lighting, steam and shower duration, by speaking a command to an Alexa device, including the Kohler Verdera Mirror.
Kohler PerfectFill Kit
When filling a bath, how many times do you return to check if it's full? With the PerfectFill kit, you can automatically fill a bath to the precise depth and temperature you desire using voice or the Kohler Konnect app. When you are done, the bath can be auto-drained.
Kohler Numi Intelligent Toilet: Smarter than you ever imagined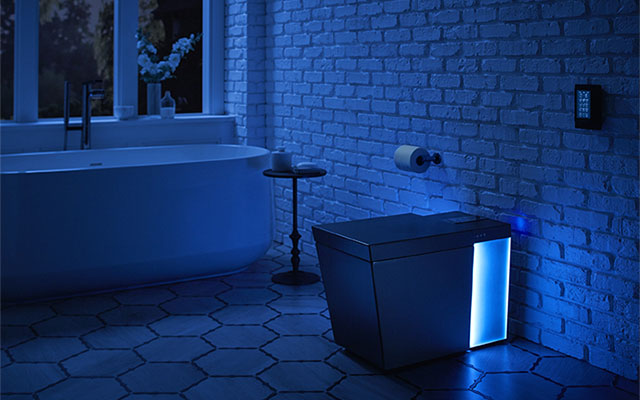 The Numi Intelligent toilet is controllable through voice command or motion detection. It has all basics, including flushing, personalized cleansing, water efficiency, and a heated toilet seat. Beyond that, it adds a foot warmer, ambient colored light and a Bluetooth music sync (perhaps "Ride of the Valkyries" could inspire you).
If you're not ready to talk to your toilet, the Touchless Response toilet with Kohler Konnect might be right for you. It features a standard trip lever with a motion sensor for touchless flushing. The flush proximity sensor and integrated nightlight can be adjusted through the Kohler Konnect app. And for those of us who live where a toilet seat can be very cold, the PureWarmth toilet seat with KOHLER Konnect can be controlled by the app for temperature, heat duration and nightlight.
In the Kitchen
Now it's not just the appliances that can be voice controlled in the kitchen. Faucets from Delta and KOHLER can turn on and off and dispense water by simply asking for what you need.
The Samsung Family Hub Refrigerator with Bixby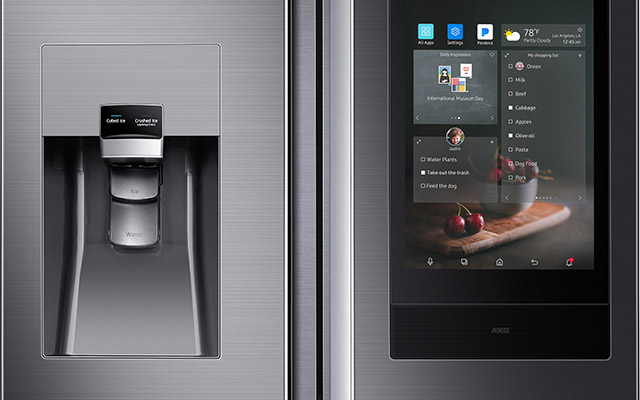 Family Hub 3.0 integrates Bixby (Samsung's smart assistant) and SmartThings (smart home technology) for a new level of control. Along with seeing what's in the fridge and leaving a note on the LCD screen's "whiteboard," you can see who is at the front door, adjust the thermostat, start the robotic vacuum, check on a sleeping baby and monitor your laundry. A meal planner has been added so you can search for and display recipes based on your food preferences and dietary restrictions. The Family Hub will recognize voices for personalized information to read out your calendar or the news from the station you like. The Family Hub isn't all work, though. It can stream music, mirror video playing on a Samsung smart TV or stream from your phone to keep you entertained while fixing a meal.
New apps will be added to the number of existing apps for the Family Hub. HomeAdvisor, Pinterest, the Weather Company, and Buzzfeed's Tasty will join the list of Allrecipes, Ring and Grubhub. The Family Hub will be available on 14 Samsung refrigerators and will launch this spring.
GE Kitchen Hub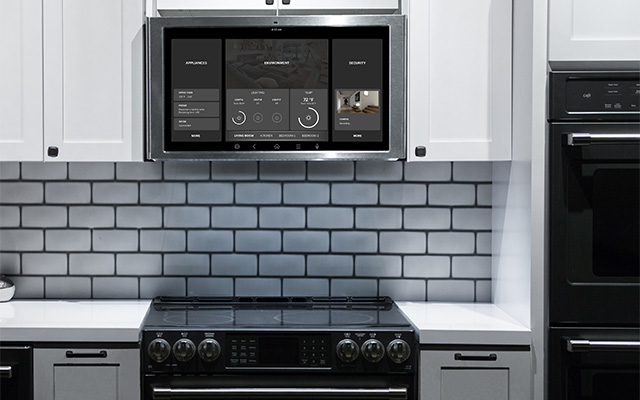 Let's face it, we spend more time standing in front of the stove, than staring at the refrigerator. That's why GE has chosen to put its Kitchen Hub in the exhaust hood over your range. The GE Kitchen Hub makes use of that empty space on the exhaust hood, adding a 27-inch touchscreen that lets you do a multitude of tasks from viewing recipes and cooking techniques to controlling GE's connected appliances. GE offers a number of smart appliances including refrigerators, ovens, ranges, dishwasher, and washers and dryers. The Kitchen Hub exhaust hood will be available in the second half of 2018.
Delta Kitchen Voice Activated Faucet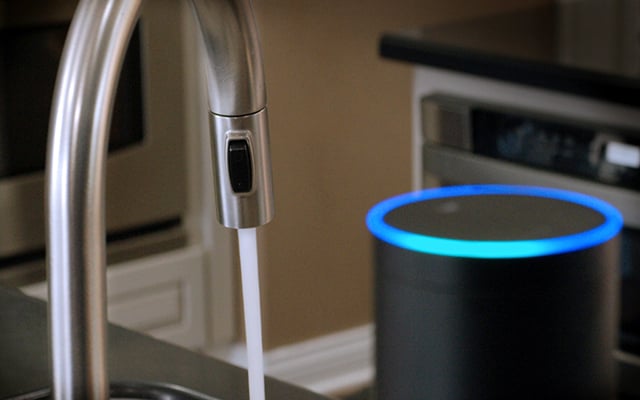 There are times when our hands are sticky, or have touched meat and you don't want to spread germs, or when you have a handful of strawberries you need to wash. These are the times when a voice-activated, touchless kitchen faucet will come in handy. Leading kitchen and bath fixture company, Delta Faucet Company, is announcing a new kitchen faucet with Delta's Touch2O technology. The Wi-Fi connected faucet can be controlled with Amazon Alexa. The faucet acknowledges a variety of commands--from turning the flow of water on and off, to smartly measuring a half a cup, to warming up your water.
[Image credit: Kohler, Moen, Delta, GE]